Emirates gives reason for selling captain to Nou Camp.
Join the FREE CaughtOffside Fantasy Football League and Win Big Prizes!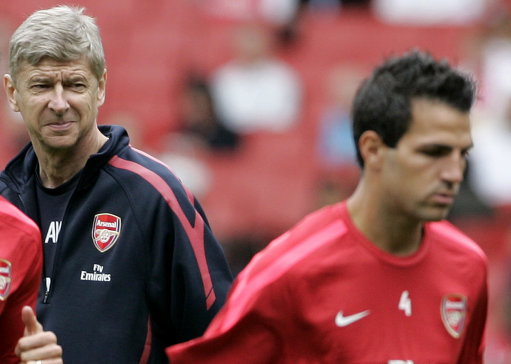 Arsenal manager Arsene Wenger insists he had no option but to sell Cesc Fabregas to Barcelona because his former captain was no longer committed to the club.
The 24-year-old finally completed a £35million move to the Spanish and European champions after a 12 month transfer saga.
Wenger had wanted to keep the Spain international but conceded it would be foolish to hold onto a player who was so desperate to leave.
"Yes we lost a world class player and we are sad about it," the Gunners boss said. "We did try to keep him but in the end we have to respect the desire of the player as well.
"It is very difficult to get the best out of a player, he has to be completely committed to where he is.
"If you understand one thing, it is that Cesc didn't go for financial reasons. He wanted to go back to his home city.
"He didn't go because he didn't love the club. He wanted to go to the town where he was educated. It is very difficult to resist that.
"Everybody has his opinion, but you have to make decisions. It was my decision and of course I submitted that to the board and the chairman."
Wenger must now look for a replacement, but while many predict an end of an era, he believes Arsenal will prosper without Fabregas.
"This club is 125 years old this season and many big players left and the club went on," Wenger added.
"That is what we want to show, that we have the strength and unity to fight as ever.
"I understand of course everyone has worries but I believe as well the club is a united front.
"Our players need the support from our fans, that is the most important thing.
"It is a very important period for his club and I'm confident we can go in a very successful way.
"It is important we remain united and don't let the media manipulate the fans."
Join the FREE CaughtOffside Fantasy Football League and Win Big Prizes!