Anfield boss reportedly keen on Bernabeu attacker.
Join the FREE CaughtOffside Fantasy Football League and Win Big Prizes!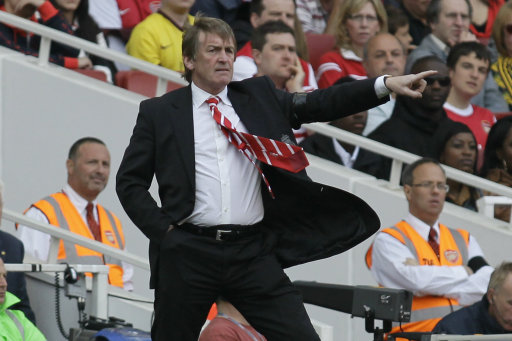 Gonzalo Higuain transfer 'unlikely' as Liverpool end spending spree
Jose Enrique's transfer has brought Liverpool's spending spree to an end, despite rumours linking the Reds with Real Madrid striker Gonzalo Higuain.
Spanish left-back Enrique completed his £6 million move from Newcastle United on Friday morning to become the fifth major arrival at Anfield this summer.
Gonzalo Higuain has been linked with Liverpool (AFP/Getty Images)
Reports in the Spanish press claimed that Liverpool had also made a £22 million offer for Higuain – although Real Madrid boss Jose Mourinho was said to have rejected it.
However, Reds director of football Damien Comolli indicated there was no interest in the Argentina international.
Asked whether Enrique would be the final signing of the transfer window, Comolli told the club's official website: 'You can never say never, but it is likely.'
SOURCE: Metro
Indeed this would be a truly shocking development if indeed there was a shred of truth to it. Liverpool have spent well this summer and it is clear that the club's owners are willing to back Kenny Dalglish to the hilt but there seems little chance that the Merseyside club would believe they could nab Argentine striker Gonzalo Higuain, not least because the Anfield club don't really need added striking options and are more likely to splash the cash on a new centre back.
Having brought in Luis Suarez and Andy Carroll to the club in January for a combined fee of around £58m and with Dirk Kuyt and David N'Gog as back up options Liverpool boss Dalglish has more than enough firepower to be getting on with. He has also brought in good providers this summer with the likes of Stewart Downing, Charlie Adam and Jordan Henderson all good providers.
Higuain is Jose Mourinho's main striking threat and when the 23 year old was sidelined last term with a herniated disc Real Madrid had to count on first Karim Benzema and on loan Togo international Emmanuel Adebayor to provide the striking threat.
Luckily the La Liga giants could count on a mass of goals from Cristiano Ronaldo but the 'Special One' will hope that Higuain can get firing again following his time out. The French born striker has netted 66 goals over the past three seasons.