Anfield star knows expectations are high.
Join the FREE CaughtOffside Fantasy Football League and Win Big Prizes!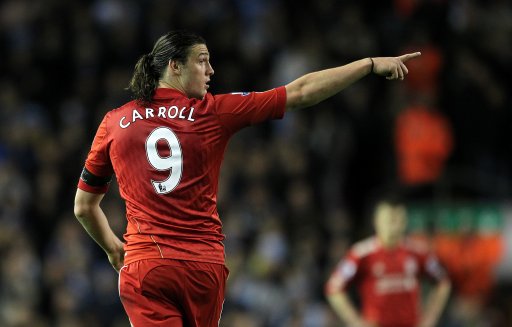 Liverpool striker Andy Carroll wants to prove he can become an Anfield hero and does not want to be judged on his injury-affected start on Merseyside.
The 22-year-old became the club's record signing last January in a £35million move from Newcastle United on deadline day.
But the England international was injured when he signed and did not make his debut until March 6 and made just nine appearances for his new side.
Critics used his inflated price tag has an excuse to have a go at the powerful hit-man, but after a good pre-season, Carroll is ready to prove his worth.
"I have had the pre-season which I needed and it has helped me get over all the niggles and injuries that I have had," Carroll said.
"I was injured a long time, so it was nice to play a few games and get my fitness up, as well as getting a few goals.
"I'm just looking forward to the rest of the season and keeping myself fit.
"Now it is a case of pushing forward. I have got to show what I can do. It is a big stage and I love playing for this club.
"Now I have got to do what I did to get myself here (score goals) and I am out to prove that I can do it here."
Carroll said the influence of manager Kenny Dalglish, and the faith the Scot had shown in him, was a major help.
"Kenny is a great manager and it is great to know that he has given me all his backing," he added. "I have just got to give it all back to him, really.
"In training he is giving me little pointers here, there and everywhere. Obviously I need to listen to him and put them into my game.
"It is nice to know that he has got faith in him and it is a big help."
Carroll was denied a goal  in Liverpool's opening 1-1 draw at home to Sunderland on Saturday following a push on Anton Ferdinand.
Despite the draw being disappointing – in the wake of £50million-worth of new signings – Carroll said the team was encouraged by the work they had done.
"We are disappointed with the draw but all the lads are happy to get the first game out of the way and with the way things are going," he said.
"We have played some good football, we played well (in the first half) and we will take some positives out of it.
"I think we all played well together, we have done well in training and we created enough chances (against Sunderland) to prove that we can all fit in the team together.
"It is going to take everyone a little while to get together; we want a little bit more and we want to get a few more goals but we all think that it is there.
"Now we have got the next game (at Arsenal) to look forward to."
Join the FREE CaughtOffside Fantasy Football League and Win Big Prizes!