Emirates club inserted stipulations into transfer.
Join the FREE CaughtOffside Fantasy Football League and Win Big Prizes!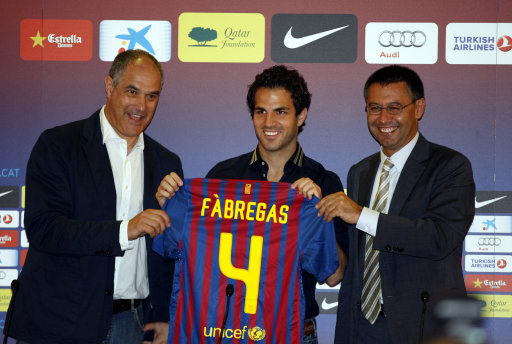 Arsenal have first refusal to buy Cesc Fabregas back from Barcelona as part of the £36million transfer that was completed yesterday.
The Gunners insisted in a number of clauses from the Spanish and European champions with manager Arsene Wenger insisting they got the 24-year-old on the cheap.
Chief executive Ivan Gazidis insisted on the clause as the north Londoners drove a hard bargain with the Catalonians.
And if they do not buy him back, Arsenal will get 50% of any fee if Barcelona sell Fabregas elsewhere.
It leaves the Gunners believing months of haggling have paid off – and that it is a better deal than Barca are suggesting.
The Spanish giants will pay £14.5million up front and another £14.5million in October.
Fabregas agreed to forgo a £4million pay-off, and Barca will make up the rest of the fee in success and bonus 'add-ons'.
Arsenal also persuaded Barca to waive any further options, sell-on or compensation claims for teenagers Hector Bellerin and Jon Toral, who moved to the Emirates from the Nou Camp this summer.
Fabregas kissed the Barcelona badge when he was unveiled at the Nou Camp on Monday, after signing a £100,000-a-week four-year contract.
He had left Arsenal and manager Arsene Wenger in an impossible situation by insisting that he only wanted to go to Barcelona.
For this reason Wenger says Barcelona got the Spain international on the cheap as the midfielder was not for sale in an open market.
"If he was on the market to any club we would have got more money but we did want to get a decent fee," said Wenger. "That's what I'm paid for.
"You cannot say because you want to get the deal done as quickly as possible: 'Just take him and give us what you want'. You have to fight for your rights.
"If Cesc is for sale and you can make an auction between Real Madrid, Chelsea and Manchester City, you will certainly get more money, but he just wanted to go to Barcelona.
"We didn't even try (to encourage other clubs to bid) because we did not want to sell the player. Our desire was to keep the player."
Join the FREE CaughtOffside Fantasy Football League and Win Big Prizes!