Emirates Stadium star on his way to the Etihad.
Join the FREE CaughtOffside Fantasy Football League and Win Big Prizes!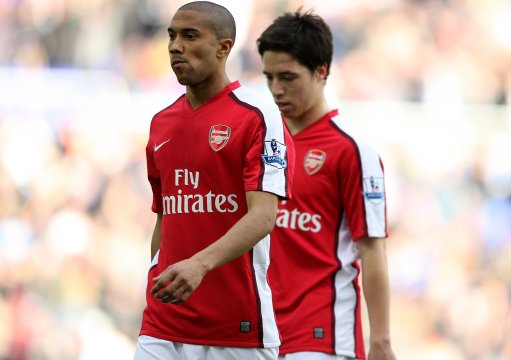 Samir Nasri has confirmed he is close to following Cesc Fabregas out of Arsenal and claimed he will do so with a sense of 'anger and bitterness'.
A day after accusing fans of being disrespectful on Twitter, Nasri left a message for Facebook followers to reinforce his feelings.
'It's nearly done,' said the France midfielder in reference to a proposed £23million transfer to Manchester City.
'I will leave with bitterness and anger in my heart. I am proud for having played with the Gunners.
'I have been very disappointed by the supporters last weekend. I am still an Arsenal player but I will leave very soon.'
City hope to complete the transfer before the weekend, with Arsenal at home to Liverpool on Saturday lunchtime.
It was during the goalless draw at St James' Park when visiting Gunners fans reworked their usual celebratory Nasri song to accuse him of being greedy.
The sentiment stems from his refusal to extend a contract at the Emirates which expires next summer.
Arsenal have offered a new deal worth £90,000 a week but City have dwarfed it with a package worth £165,000 a week.
SOURCE: Daily Mail
So it looks like Man City will bring in yet another attacking midfielder and will pay a combined fee of £57.3m to do so. The Etihad Stadium side will stump up £23m to Arsenal for the Frenchman, quite a large fee for a player who would be available for nothing in 12 months time, and a further £34.4m in wages for the four year deal they will offer the former Marseille attacker.
Nasri will be the fourth Arsenal player to have moved to Man City in little over two years and the 24 year old attacking midfielder will join Kolo Toure, Emmanuel Adebayor and Gael Clichy at the Etihad Stadium and it must make some wonder why Arsene Wenger appears to be the only manager in the Premier League who has no qualms about selling to a rival Premier League club.
Roberto Mancini is clearly keen to snap up the talented French international but one wonders where that will leave the likes of James Milner and Adam Johnson and reports today state that the Man City manager will fight off attempts by the likes of Aston Villa to bring either England man in on a loan deal.
Wenger has a couple of weeks to invest the money coming from the sales of Cesc Fabregas, Clichy and Nasri and is reportedly keen on covering defensive weaknesses first before addressing the loss of two of his star performers.
Arsenal have also offloaded Emmanuel Eboue to Galatasaray and sent Carlos Vela out on loan to Real Sociedad.