Emirates boss backs supporters to help the team.
Join the FREE CaughtOffside Fantasy Football League and Win Big Prizes!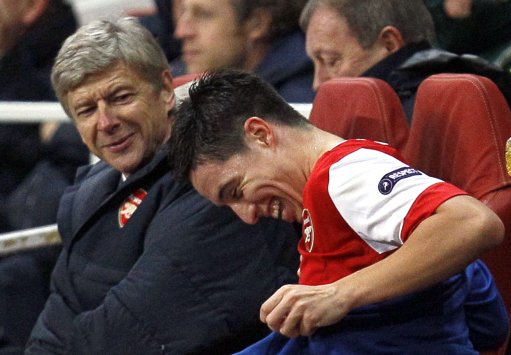 Arsenal manager Arsene Wenger has called for fans to get behind the team – and Samir Nasri – in tomorrow's crucial match against Liverpool.
The Gunners boss will select the 24-year-old in his squad to face the Reds, despite his imminent move to Manchester City.
Blues manager Roberto Manager hopes to tie up the switch "very quickly" but Wenger insists there is no reason to leave him out now he is fully fit after a bout of illness.
Nasri could receive a mixed reception from Arsenal fans after he was jeered during the away match at Newcastle last weekend.
His possible exit coupled with the £35million departure of Cesc Fabregas to Barcelona has left Wenger short of midfield options.
But he has pleaded with fans to keep the faith and insists he will spend the money on the right players.
"One thing I don't question is Samir Nasri's the commitment to this club," Wenger said.
"Every day since he has arrived here, every day in pre-season, he has worked with a fantastic spirit in training.
"The fans will want Arsenal to play well and win the game. They do not make an individual case of each player in each position.
"They want good players and to win the football game.
"We live in a modern democracy where everybody has a right to have their opinion, but it does not mean always that a few opinions represent the majority.
"The unfortunate thing is that the extreme opinions get more media attention than people who have normal common sense and intelligence.
"Because a few people have a bad opinion of one person, it does not necessarily represent the majority of our fans.
"The majority of our fans are behind our players and I think they will show that tomorrow."
"We have lost big players, but number-wise we should be capable of doing well," he added.
"If we find quality we will add quality to our squad and we work very hard on it.
"I believe I have shown in my 15 years here I am capable to make the right decision for the right players – you have seen more world class players here as anywhere else.
"You have to trust my judgement – one day somebody else will make the decisions in my place and we will have to trust him."
Arsenal v Liverpool Live Streaming
Join the FREE CaughtOffside Fantasy Football League and Win Big Prizes!