Bernabeu boss is out of order and out of control.
Join the FREE CaughtOffside Fantasy Football League and Win Big Prizes!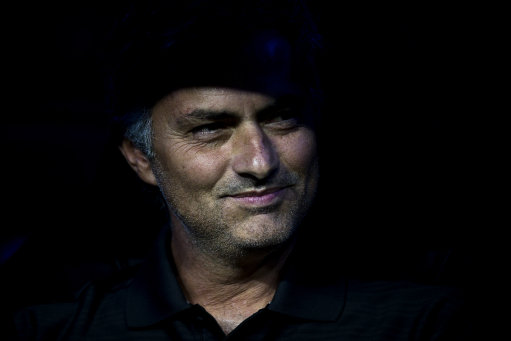 Everything was going so well. Sure, a few harsh and untimely challenges from both clubs, but it will always be an element of this bitter rivalry. For ninety minutes (plus the ninety from the first leg on Sunday), Real Madrid and Barcelona wowed the masses with a display of football that puts both clubs light years ahead of the rest of the competition. Finesse, technique, ambition, and creativity all personified in an open, attacking Supercopa that saw plenty of goals from both sides and Messi's brilliance to the rescue once again. And then Marcelo ruined it.
In an attempt to "close down" Fabregas on the touchline, the Brazilian launched into a two-footed scissor kick, scything the Catalan to the floor. It wasn't cynical. It was criminal.  No more helpful was the fact that it occurred in front of both benches, bringing substitutes and coaches into the subsequent melee. Marcelo rightly saw red and luckily, Fabregas did not suffer any serious injury. And then Mourinho ruined it even more.
With a conniving shit-smirk on his face, after standing just feet away from the grotesque assault on Fabregas, Mourinho decided to have some fun. Not knowing whether Marcelo's challenge had quite possibly shattered Fabregas' ankle, he meandered into the fracas and plunged his finger into the right eye of Tito Vilanova (video below). Credit Barcelona's assistant for not completely losing control after having his eye gouged – a show of composure that should be applauded. But what to make of Mourinho? Arsene Wenger now looks completely sane and rational compared to his former nemesis.
It all comes to a head now for the Portuguese manager. His antics over the past two seasons have resulted in an attempted stabbing, conspiracy theories, suspensions, and an overall disregard for the gentlemanly class of Spanish football. Last night trumped them all. The severity of attacking a fellow coach like that cannot be understated. No less after the horrific challenge by Marcelo, when Mourinho should have escorted his left-back straight to the dressing room. But he didn't. His actions once again represent a tacit approval of the harsh, bullying physicality imposed by his own players on the pitch.
A line has been crossed and it is time for the LFP to show that they truly care about the image of their league and hand down severe punishment on Mourinho. He should be banned for at least five matches – perhaps more. Assault and inciting violence, because he sure as hell wasn't a peacekeeper, are as reprehensible an offense any manager in any sport can commit. On the eve of a players' strike which could shut down the opening two weeks of La Liga, an opportunity presents itself for the LFP to display a semblance of credibility. For the sake of Spanish football, let's hope they do.
(On another note, the Barcelona supporters are equally guilty of wrongdoing. The monkey chants directed at Marcelo throughout the second half were disgusting and shameful. Racism continues to give Spanish football a black eye, while any sort of punishment from the LFP is as likely as humans inhabiting Mars tomorrow. The "say no to racism" campaign is a complete joke when the suits behind it are spineless, cowardly individuals unable and unwilling to punish the culprits).