DW Stadium boss will take it all on the chin at the Liberty Stadium.
Join the FREE CaughtOffside Fantasy Football League and Win Big Prizes!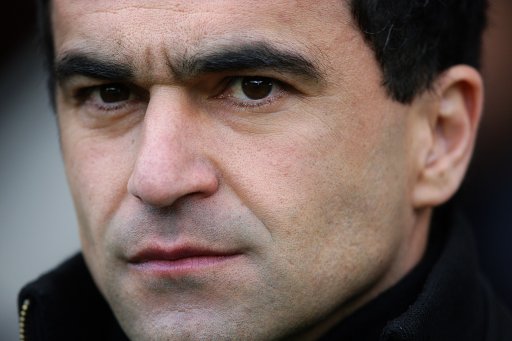 Wigan Athletic manager Roberto Martinez  will not be surprised if he receives a bad reception from Swansea City fans at the Liberty Stadium tomorrow.
The Spaniard made 122 appearances for the Swans as a player and spent two years in south Wales as manager between 2007 and 2009 before leaving for the Latics.
It was a controversial decision by Martinez, who had previously said he would only quit Swansea if he was forced out.
He was jeered by the home fans when Wigan played a Carling Cup tie at the Liberty Stadium last season, and predicts a similar welcome this time.
Martinez played a big part in Swansea's phenomenal rise from the bottom of the Football League to the top flight in less than a decade – first as a player and then securing promotion to the Championship as a manager.
He is proud of how far they have come but insisted the credit for their rapid progress should be given to the players and the board.
Wigan will be the first club to play an away game in the Premier League outside England.
Swansea were given a tough start to life in the Premier League with a 4-0 thrashing at title hopefuls Manchester City on Monday.
Martinez does not expect that to be representative of their season, though, and predicted the Swans will have no trouble avoiding relegation.
He hopes the excitement of promotion to the top flight will have helped Swansea fans understand why it was a chance he felt he could not turn down.
"I understand and I'll accept any sort of reaction," Martinez said. "I'm sure the fans, looking back now, they understand more my decision.
"They see the football club reaching the dream of the Premier League.
"I've got a lot of good friends and people that I'm close to so it's going to be a great feeling to be down there.
"And I've got a lot of respect for the fans so, whatever the reaction is, I'll respect it and accept it.
"I really enjoyed my time there, I gave my life to try to set a long-term strategy and I think it's quite clear the group of players Swansea have got have been there for a long time and they know what it takes to represent that football club.
"I do take pride in that but it's not down to me, it's down to the players and the long-term vision and strategy that was set out.
"They've got great stability and it's run by the right people.
"All my memories are fantastic and I'm extremely proud they're in the Premier League."
"I think first and foremost we've seen a Manchester City who are going to challenge for the title, and they've got a very strong group of players," he added.
"Swansea did what they had to do. They were impressive in the first half, they never lost their identity, were very brave in possession and they showed what they can do.
"I feel Swansea will surprise many sides in the Premier League with the manner they play.
"The cohesion they've got in the group and certain individuals can really hurt sides, and I think Swansea will be the revelation of this season.
"I don't think there should be a worry for them. They've been a very successful side with a core of players who've been together for a long time and they'll be competitive throughout the season. I'm certain that they're going to stay up."
Swansea v Wigan Live Streaming
Join the FREE CaughtOffside Fantasy Football League and Win Big Prizes!