Emirates boss could have ban extended or receive a fine.
Join the FREE CaughtOffside Fantasy Football League and Win Big Prizes!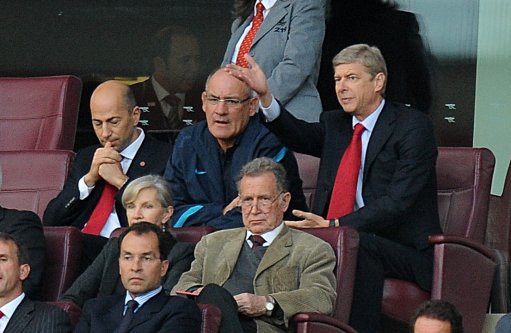 Arsenal manager Arsene Wenger expects punishment after UEFA opened disciplinary proceedings against him for breaching his Champions League touchline ban.
The Frenchman was not allowed in the dugout following a suspension for comments made about the referee after the Gunner's elimination against Barcelona.
He was seemingly caught passing messages to his team via a third party, Boro Primorac, during Tuesday's 1-0 win over Udinese in their play-off first leg.
Arsenal immediately confirmed that they will argue Wenger's case when the disciplinary is held on Monday.
Wenger claimed UEFA had permitted him to relay instructions to assistant manager Pat Rice via Primorac, who was in telephone contact with the bench.
But European football's governing body denied this and have been studying the report from their match officials before deciding whether to take further action.
"Disciplinary proceedings have been opened against Arsene Wenger for not abiding by the decisions of UEFA in relation to the one-match suspension he served during Tuesday's game against Udinese," a statement on UEFA's website read.
"According to UEFA disciplinary regulations, a manager may not communicate with his team during the match and may follow the game from the stands only.
"Wenger was serving the suspension which the UEFA control and disciplinary body handed down following the English team's round of 16 match at Barcelona in the same competition last season.
"The new disciplinary case will be discussed on Monday 22 August."
Arsenal v Liverpool Live Streaming
Join the FREE CaughtOffside Fantasy Football League and Win Big Prizes!