White Hart Lane playmaker misses Old Trafford trip, which gives us the chance to use this wonderful image yet again (see below).
Join the FREE CaughtOffside Fantasy Football League and Win Big Prizes!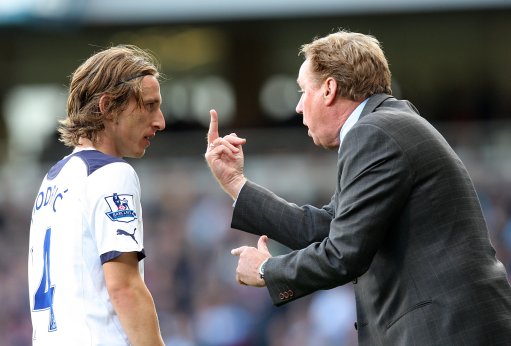 Luka Modric will not face Manchester United on Monday night because "his head's not in the right place", according to Spurs boss Harry Redknapp.
"He's not playing," said Redknapp. His head's not in the right place. We need him playing, he's very important to us, so we have to sort it out."
Redknapp believes Chelsea's capture of Valencia midfielder Juan Mata on Sunday for £23.5m will affect the situation.
"I would think that's the end of the Modric deal surely," he said.
"The chairman is away. He's said he (Modric) is not for sale, so that's where we're at with it.
"I think he's made up his mind he's not going to sell him, no matter what the price.
"Luka's got to get on with it now and hopefully have another good season for us.
"Daniel (Levy) said he would like to sit down with Luka in a month or so when it's all died down a bit."
SOURCE: BBC Sport
Kudos to Tottenham for sticking to their guns on this one, perhaps Arsenal could take a leaf out of there book, but what does Harry Redknapp do going forward? Clearly it would be fairly self defeating if every week the Croatian midfielder was not mentally ready to play for the club, someone may need to make it clear to the White Hart Lane schemer that he is contracted to play for the North London club and should show some loyalty to the club.
It's worth remembering that the 25 year old signed a six year deal just a year ago so it's not like he didn't know that by doing so, he was committing to the club in the long term.
Modric believed he has a verbal 'Gentleman's' agreement with chairman Daniel Levy about his being able to leave the club for Chelsea if they came in for him, this seems hugely unlikely and either way the former Dynamo Zagreb man had nothing down in writing and now just looks desperate to leave the club, for one of their arch rivals to boot and that doesn't show the playmaker in a very good light.