A brand spanking new article series.
Join the FREE CaughtOffside Fantasy Football League and Win Big Prizes!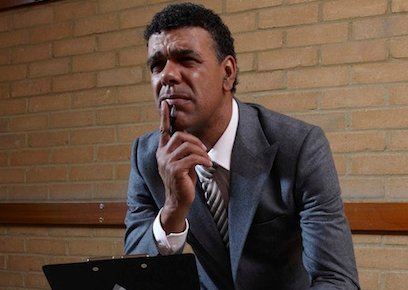 Tired of long drawn out interviews where no one actually really says anything of note? Wish that people would just make their thoughts and opinions more clear-cut? Do you think footballing folk are becoming more like politicians, unable to commit to answering questions? Well then 20 questions is the place for you. We ask our guests 20 questions and we will only accept yes or no responses! Simple as that. One pass is allowed.
1 Would you gladly exchange you successful punditry career for having had a more successful playing career? NO
2 Is Paul Merson as clueless as he appears to be? YES
3 Does Matt Le Tissier continually refer to his obvious football talent he possessed as a player? NO
4 If someone told you that world peace could be secured but only if you shaved off your moustache, would you consider it? YES
5 Have you ever sent Jim Melrose a Xmas card? NO
6 Do you feel that as a footballer you underachieved? YES
7 Is Jeff Stelling as big a Hartlepool fan as he seems? YES
8 Would you consider attempting to climb Mount Everest for charity? YES
9 If requested, would you be interested in appearing on Celebrity Big Brother? NO
10 Are footballers paid too much money? YES
11 Would you approve a Play-Off Shake-up? Third place getting bye into final etc… NO
12 Would you approve of Robot referees? NO
13 If Steve Gibson called you tomorrow and asked you to be Middlesbrough boss would you assume he was drunk? NO
14. Do you hope to return to football management? NO
15. Would you record a charity single with Jedward? YES
16 Do you support calls to bring back capital punishment? YES
17 Should a winter break be brought in to the English game? YES
18 Have you ever met Rupert Murdoch? YES
19 Have you ever been approached to act in any TV Show/movie? YES
20 Would you support the introduction of an All-Star game to replace the Community Shield? YES