Emirates boss looks to the future.
Man United v Arsenal Live Streaming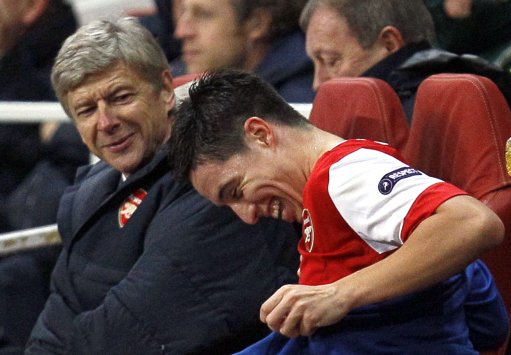 Arsenal manager Arsene Wenger will not spend money on a replacement for midfielder Samir Nasri, as he has enough faith in his remaining squad.
The 24-year-old will join Manchester City in the next 24 hours for £25million ending a summer-long transfer saga.
The France international's exit follows Cesc Fabregas' £35million move to Barcelona and leaves the Gunners with big holes to fill in their midfield.
Their departures add to the gloom surrounding the Emirates at present, with one point from two league games and a lack of transfer activity has got the fans worried.
So far only youngsters Alex Oxlade-Chamberlain, Carl Jenkinson and Joel Campbell have joined Gervinho as the club's summer signings.
With £60million in the back from the two sales, Wenger is expected to re-enter the market, but not for a direct replacement for Nasri.
"'You've lost two great players, will you replace them with two great players?," Wenger said. "I've bought some great players.
"We've bought [Alex] Chamberlain, you'll see that he'll be a great player. Gervinho too will be a great player.
"We want ideally more because we are short in certain areas.
"The summer was very difficult because we had Cesc Fabregas and Nasri on permanent transfer negotiations and that is draining in the end.
"We lost two great players and that's a sad side of the story but at some stage it has to be over, because you want to focus on the future.
"We want players who don't play and then think they are gone the next morning. We want players who are totally committed in the long term to defend our chances.
"We wanted to sort (Nasri) out quickly after the summer but it was impossible. The pace (of the transfer) was not only dictated by us unfortunately."
Join the FREE CaughtOffside Fantasy Football League and Win Big Prizes!