Stamford Bridge new boy is excited to be playing in west London.
Chelsea v Norwich Live Streaming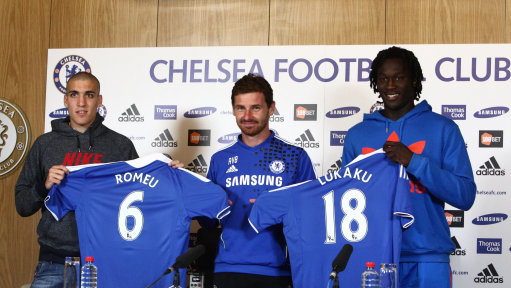 Chelsea striker Romelu Lukaku admits it is a dream to move to the club and to play alongside his idol Didier Drogba.
The 18-year-old fell in love with the club ever since he visited Stamford Bridge on a school trip.
The Belgium international used to watch Match of the Day to see Jimmy Floyd Hasselbaink bang in the goals but the arrival of Drogba convinced the £20million signing where his future lay.
"Three or four years ago I had two jerseys of Didier Drogba, one to sleep in and one to wear in the street when I was playing with my friends," he said.
"I had a poster above my bed of Didier and a poster on my right side of Nicolas Anelka.
"I always wore the same boots as Didier. They were Nike, but when I signed my contract with Adidas I changed!
"I'd watch Chelsea train on Chelsea TV. No-one else would do that. People called me crazy, my mum called me crazy.
"I said it was normal, I want to know what it's like there so that I'm ready when I go there. I was a true crazy.
"When you are a true fan of a team and you can play for them, it's the best thing in the world.
"But you must also be focused – I'm not a fan anymore, I'm a player."
Lukaku visited Stamford Bridge in 2009 during a school field trip to London while being filmed for a television documentary.
Two years later he has fulfilled his ambition by joining for the Premier League runners-up.
"The fifth and sixth grade went to London for three days. We were visiting the city and I didn't know we'd be going to Chelsea on the day," he said.
"I saw a big blue building and thought what is this? As we got closer I saw it was Stamford Bridge. I thought 'wow!'
"I couldn't speak because I always wanted to come here. When my class went to the dressing room I stayed behind on the pitch looking.
"I imagined myself playing there alongside Didier Drogba and the other lads.
"What a stadium. If one day in my life I will cry, it will be the day I play here. I love Chelsea.
"A teacher asked me 'what are you doing here?'. I told him that one day I'd play here.
"When I signed for Chelsea, I called the teacher and said 'I told you I'd play for Chelsea!'.
"I took 300-400 pictures. I still have them on my PC.
Lukaku believes he can forge a dangerous strike partnership with Drogba and compares the 33-year-old to a big brother.
"I'm sure Drogba and I could form an effective partnership. In training it works all the time," he added.
"If you work in function with your partner, it can always work. You need to listen to each other.
"He's like my big brother, I tell him that. I say to him every day that he has to stay. He has to stay for me.
"If I can play for two more years he can prepare me for the big job. I know he wants to stay.
"We had the same style of play and movement and also hair. Now to be with him is like 'wow!'.
"Didier came into the dressing room and I thought 'oh my god'."
Join the FREE CaughtOffside Fantasy Football League and Win Big Prizes!