Not everything in the Emirates stadium garden is as bad as it seems.
Man United v Arsenal Live Streaming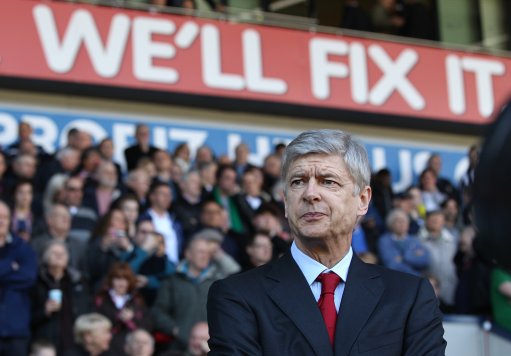 Arsenal's transfer policy has come under intense scrutiny this summer and perhaps justifiably so. The skipper Cesc Fabregas has jumped ship to his boyhood club Barcelona, Samir Nasri is set to join Manchester City and Gael Clichy has already made the financially rewarding move to Manchester. On top of the departures of key players, many of the problematic positions in the squad from last season are still yet to be addressed by manager Arsene Wenger and many will question his willingness to sell to direct rivals.
In truth though, much of the criticism aimed at Wenger this summer has been nothing new. He appears reluctant to spend the full amount of money made available to him by the Arsenal board and when he does spend, he tends to avoid signing established Premier League stars, favouring signings from abroad instead. New signings like Joel Campbell have already been described by the Frenchman as "prospects" rather than first-team signings. As a result, sections of the media have accused him of being stubborn in his insistence on buying young players and trying to mould them into superstars, rather than buying players with a proven track record. The criticisms may have been louder and more frequent but they've been discussed extensively in previous seasons too.
That said, at least these criticisms have a basis in reality, even if Arsene Wenger feels he can justify them. One criticism that has been directed at Arsene Wenger this summer, which perhaps has less of a basis in reality, is the repeated assertion that there are not enough British players in the squad and that he should make more of an effort to adopt a "buy British" policy.
It has been said time and time again in recent years that the Arsenal squad lacks a British core present in other top sides in England. As far back as 2005, Arsenal fielded an entirely foreign XI in a Premier League match against Crystal Palace. The media fallout which followed lead to Wenger famously stating "I don't look at the passport of people, I look at their quality and their attitude."
In previous seasons, this perceived flaw in Arsenal's squad also had a basis in reality. By 2011, however, it has instead become little more than a media cliché. Somewhere amidst the intense scrutiny, a simple fact has been overlooked; this current Arsenal squad, for all its possible failings or shortcomings, actually has a fairly strong British presence.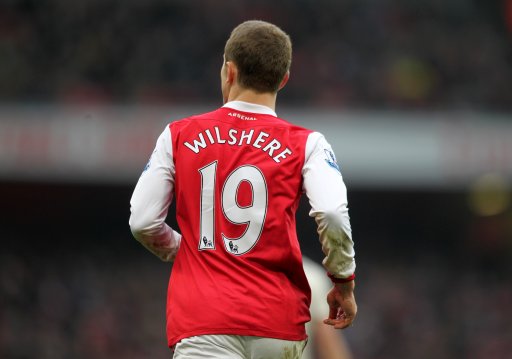 One of the main plus points of Arsenal's 2010/11 season was the emergence of Jack Wilshere in central midfield. Still just a teenager, Wilshere racked up an impressive 35 league appearances and became a pivitol part of the Gunners' first choice XI. A youth player at Arsenal from the age of nine, Wilshere's displays drew praise from around the country and abroad, in particular catching the eye with an assured display in the first leg of Arsenal's Champions League tie with Barcelona; a game which Arsenal won 2-1, with Wilshere completing 93.5% of his passes overall and 91% of his passes in the final third of the pitch. Wilshere went on to claim the PFA Young Player of the Year award and establish himself in the England team as well.
Theo Walcott, now 22, has also established himself as a first-team regular. The young winger, who still insists that he would prefer to be deployed centrally as a striker in the future, had his most prolific season in 2010/11, notching 13 goals in all competitions. The England international started the current campaign with an important first-leg goal in Arsenal's Champions League qualifier against Udinese.
Meanwhile, Gael Clichy and Cesc Fabregas' departures have cleared the way for Kieran Gibbs and Aaron Ramsey to move to the front of the pecking order.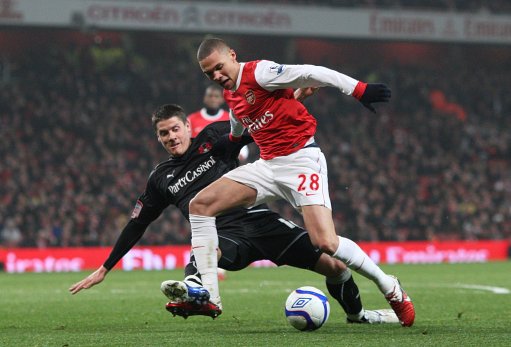 Gibbs, assuming he can overcome his injury problems, now has the chance to firmly establish himself as the club's primary option at left-back and may also harbour the more challenging long-term goal of displacing Ashley Cole in the England national side. Aaron Ramsey, captain of the Welsh national side and fresh off a full pre-season for the first time since the double leg fracture he suffered during the 2009/10 season, looks to be the man left with the unenviable task of filling Cesc Fabregas' boots in midfield. But it's a task he will surely relish.
In addition to those four key talents, Arsene Wenger has drafted in a few additional British talents to his Arsenal side this year.
19-year-old Emmanuel Frimpong started the game against Liverpool and showed glimpses of his talent before being shown a second yellow card for a wild challenge on Lucas. Frimpong is very highly rated at Arsenal but will need to curb his enthusiasm for a tackle somewhat if he is to make the grade. Although Ghanaian by birth, Frimpong has been a north London resident since childhood and represented England at under-16 and under-17 level. Like Jack Wilshere, he has been at the club since the age of nine. He will hope to follow in Wilshere's foot steps and establish himself at Arsenal, although for this season it seems likely he will serve primarily as back up for Alex Song.
Sunmer signing Carl Jenkinson also featured against Liverpool and Udinese. Ideally deployed at right-back and hoping to challenge Bacary Sagna for a starting place, Jenkinson looks set to see plenty of game time this season regardless due to his versatiliy; the youngster, a product of the Charlton Athletic youth team, can play anywhere across the back line. Like Frimpong, Jenkinson has a dual nationality and has represented both England and Finland during his youth international career. Born in Harlow, England to a Finnish mother and English father, he has not yet played a senior international game and remains eligible to represent either nation.
According to figures reported by press sources, Arsenal's most expensive summer signing up until now has been Alex Oxlade-Chamberlain. Chamberlain, like Theo Walcott before him, has joined Arsenal from Southampton at a young age, with a high price tag. Time will tell whether or not the transfer fee will be justified but it demonstrates a huge display of faith from Arsene Wenger in an English youngster who could end up costing Arsenal as much as £15million.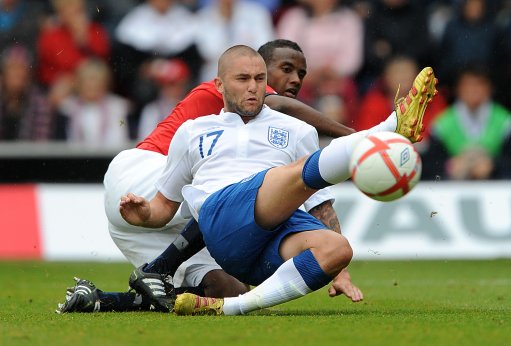 Furthermore, there are several other British talents on the brink of the first team squad. Henri Lansbury made a brief cameo against Liverpool as a substitute and was one of a select few who impressed for England, albeit from the substitutes bench, in the summer's under-21 European Championships. Craig Eastmond has already featured for Arsenal's first team on a few occasions, although with Frimpong's emergence he may now be surplus to requirements. Finally, Benik Afobe impressed during a game against MLS side New York Red Bulls in the pre-season Emirates Cup tournament. Afobe, still only eighteen, displayed great form during a loan spell at Huddersfield Town last season and may well be a break-out star in 2011/12.
So, for all of the criticisms Arsene Wenger has received this summer, the validity of which will be debated extensively elsewhere, it seems he has corrected one long-standing complaint. Whether it's coincidence or through "looking at passports", only Arsene Wenger knows, but with the likes of Wilshere, Walcott, Ramsey, Gibbs, Jenkinson, Frimpong and Oxlade-Chamberlain, Arsenal now have a strong British base to build on; a base made up of players young enough to feature for many years to come.
Join the FREE CaughtOffside Fantasy Football League and Win Big Prizes!