Emirates hero convinced playmaker to move to the Etihad Stadium.
Tottenham v Man City Live Streaming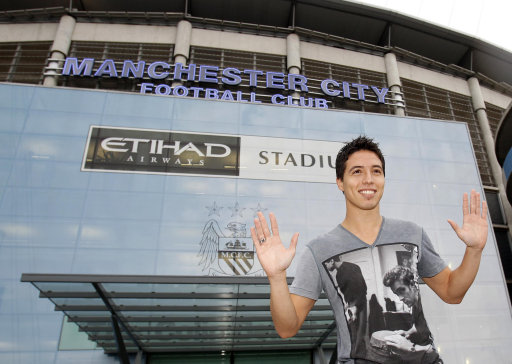 Manchester City midfielder Samir Nasri has revealed Arsenal legend Patrick Vieira convinced him to move to the Etihad Stadium.
The 24-year-old yesterday signed a £185,000-a-week four-year contract with the Blues completing a £24million switch.
The deal for the France international ends a summer long pursuit for manager Roberto Mancini, but the player does wish it was completed sooner.
Nasri spoke with Vieira, City's football development executive, on a regular basis and took an early opportunity to insult Arsenal fans.
"I'm here to play football and to enjoy it and win titles," Nasri told City's website.
"I spoke to Patrick Vieira about the move as it was important to get advice from players who played for the club know the club very well.
"Vieira said City is the place to be. It is the club of the future, they want to win everything. They have a big, big, big project.
"I can see (Manchester City fans) are really passionate and it reminds me a little bit of Marseille.
"Arsenal have good fans but not that passionate since they moved from Highbury to the Emirates.
"I remember when we played against City, when we lost 3-0, the crowd was amazing.  That is what I want. When you play football it is for a good atmosphere."
"It is a big relief, it was a long negotiation and discussion between the two clubs," he added.
"Finally I am a City player and that is what I wanted since the start, so I am really happy.
"I was a little bit frustrated, I said to the manager I wanted to leave. I wanted to do the pre-season with Manchester so I could know a little bit more about my team-mates.
"It was frustrating but it is a new start and I am looking forward to doing it."
Join the FREE CaughtOffside Fantasy Football League and Win Big Prizes!