A new series from CaughtOffside that could help you become a millionaire…or lead to imminent bankruptcy.
Join the FREE CaughtOffside Fantasy Football League and Win Big Prizes!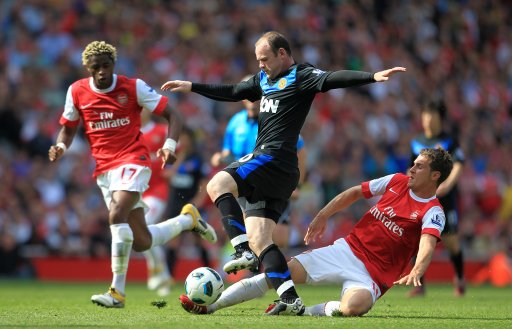 Every day we will put a bet on a game and keep a running total throughout the season. The bets we make may not be earth shattering, although on occasion we will of course go 'chasing the big win'.
We've been a bit unlucky of late, missing out on three successive bets by the smallest of margins, today we hope to put that right with a double on today's big Premier League matches.
We are counting on the bookings points in the Man United-Arsenal game to be over 50pts and in the Tottenham-Man City game being over 40pts. Remember it's 10pts for a booking and 25pts for a sending off, maximum of 35pts for any one player.
Given that Arsenal have had a player sent off in each of their first two Premier League fixtures we felt this was a good bet. Tottenham are keen to get off the mark and their match with Man City could be a tense affair and we think five bookings can easily be reached in the White Hart Lane fixture.
So we got 4/1 at Blue Square on Barcelona triumphing over FC Porto by three or more goals.
Our running total charts our success, all starting with that original £5 stake.
Bet:
£5 Man United-Arsenal to produce over 50pts and Tottenham-Man City to produce over 40pts at 4/1
Running Total
-£5.25 Based on wins minus original stake
Bet History
Day 1: FC Porto-Gil Vicente to produce more than 2.5 goals: WIN
Day 2: Arsenal-Liverpool to result in more than booking 50pts: WIN
Day 3: Bolton-Man City to end in a draw: LOSE
Day 4: Man United to defeat Tottenham regardless of one goal handicap: WIN
Day 5: Carling Cup accumulator (Aston Villa, Brighton, Leicester City, Wolves and Millwall to win in 90 minutes): LOSE
Day 6: Udinese-Arsenal to result in 60+ booking points: LOSE
Day 7: Europa League accumulator (Hapoel Tel-Aviv, Schalke, Roma, Stoke City, PSG, Tottenham and Sporting Lisbon): LOSE
Day 8: Barcelona to beat FC Porto despite two goal handicap: LOSE