Emirates club endured a torrid summer but there may be light at the end.
Join the FREE CaughtOffside Fantasy Football League and Win Big Prizes!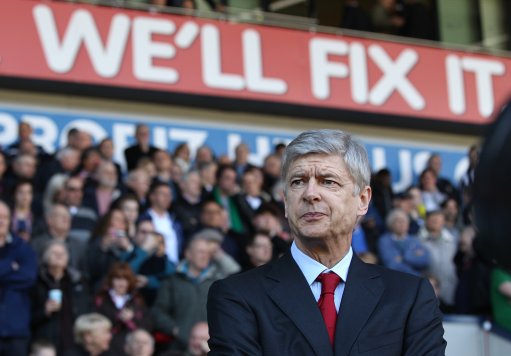 Arsenal manager Arsene Wenger has just completed his most difficult summer of his 15 years in charge. The clamour from fans to end the six-year trophy drought is increasing every game, with the pressure on the manager and players rising likewise.
To top all that supporters, who already paid the most for the privilege to watch their team in the Premier League, were asked to shell out an extra 6% for season tickets. But what the fans wanted to know was where was the money going?
An Arsenal Shareholders Trust meeting with Gunners chief executive Ivan Gazidis brought out one reason for the price hike was to pay the electricity bill. This was not good enough for diehard Gooners, who have grown tired of watching Chelsea and both Manchester clubs buy all the top talent around.
Arsenal fans knew what the club needed to end the trophy drought: defenders, midfielders, strikers and remove the deadwood that was stinking the club out. This was Wenger's last chance to keep the wolves from the door.
This summer started with what had become the annual transfer saga of Cesc Fabregas to Barcelona. It happens every window, just like the taxman always comes knocking in April. But this time it just had the feeling this would be the end and Barca would stump up the cash for their Catalan child.
What was more surprising was the contract for Samir Nasri had been allowed to run down to its final 12 months. The Frenchman was refusing to sign a new deal which alerted the top clubs all over Europe but in particular Manchester City and United. Wenger claimed he would rather lose Nasri for nothing, but as he said that you could just about hear owner Stan Kroenke's jaw hit the floor.
While these two 'will-he-or-won't-he' stories dragged on and destroyed the confidence of fans, Wenger went silently about acquiring new players. Gervinho came from Lille (£10.7m) and Carl Jenkinson was lured from Charlton Atheltic obscurity (£1m). This did cheer up the Gooners but the news was overshadowed by who could be leaving.
As the season approached, Arsenal still had Fabregas and Nasri but there were no major new signings, especially in defence, to spread optimism around the club. The fans were booing the team off the pitch during a pre-season game as fans were seeing the same defensive frailties that destroyed the team's chances of silverware over the last few years.
How did Wenger respond? By signing a teenage attacker who has never played Premier League football. Alex Oxlade-Chamberlain was bought for £15m and left fans pulling their hair out. By all accounts he will be a great addition in a few years but the Gunners wanted players for the here and now.
Bids for Phil Jagielka, Gary Cahill and Christopher Samba all failed leaving Wenger complaining about the over-inflated valuations. But with 6% more ticket revenue from 60,000 fans, surely the debt-free Arsenal could pay a little more for players that will make a difference?
Then after a goalless draw at Newcastle (which meant Gervinho and Alex Song would miss the next three league games through suspension), the news all Arsenal fans were dreading. Fabregas had been sold to Barcelona for £35million. Despite the sadness of seeing him go, the Gooners were hopeful this would mean Wenger would "spend some f*****g money."
They waited and still nothing.
After one final appearance in the 2-0 defeat to Liverpool, Nasri was also off. Seduced by the oil-money on offer at Manchester City but Arsenal did receive £24m for him. Maybe this would kick start the spending spree.
Wenger though had other things on his mind with a tricky game against Udinese to qualify for the Champions League group stages. The tie was level at half-time before Arsenal came back strongly to win the match 3-1 on aggregate. Happy days. Now they can attract stars with Champions League football and could afford them after making £59m from the departures of Fabregas and Nasri.
But still nothing.
An Arsenal side greatly depleted by injuries and suspensions made the daunting trip to Manchester United. Travelling Gooners were forced to watch 90 minutes of their beloved team ripped apart by a dynamic, ruthless and organised Red Devils team, who humiliated their rivals 8-2.
But after the darkest hour there must be light just around the corner and so it proved. Wenger with just three days left of the transfer window sprung into life. He personally intervened to secure the signing of Park Chu-Young from Monaco (£5m), and brought in experienced defenders Andre Santos (£6.2m) and Per Mertesacker (£8m).
Next on the wanted list was creativity. A frantic deadline day saw Arsenal linked with every flair player in Europe from Kaka to Yoann Gourcuff to Marvin Martin. But Wenger was looking closer to home and he secured a loan move for Yossi Benayoun from Chelsea and Mikel Arteta from Everton (£10m) – the most surprising transfer coup of the summer.
Wenger in three days had turned the club around and new sense of optimism has covered Holloway Road. But the question has to be asked: why was it not done sooner? The Arsenal boss must have known from early on Fabregas and Nasri were going to leave so why not find, and buy, replacements in that time?
The board, who have remained eerily silent throughout, must take responsibility for this. They are far too happy to let Wenger take the blame and the heat from the fans when they are the ones controlling the transfer business. The manager will have input of course but Kroenke and Gazidis will be in the thick of discussions.
In the end, Wenger has got it right. He has added more experience to his squad and strengthened the defensive options at his disposal. Gooners will be sad a marquee signing was never made. Considering Arsenal spent £55.9m this summer and recouped £72.5m through player sales, this would not have been too much to ask.