Don't believe the hype or a talent squandered?
Join the FREE CaughtOffside Fantasy Football League and Win Big Prizes!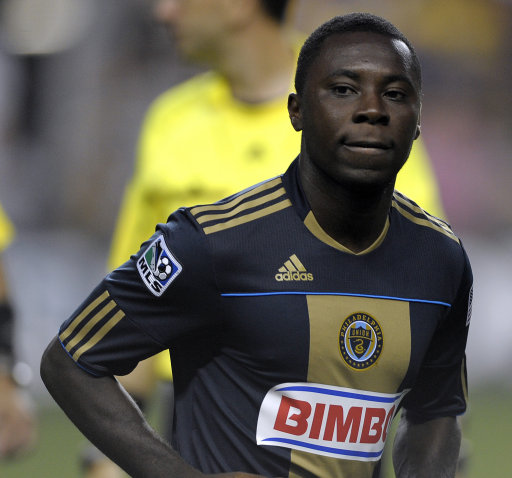 In November 2006, Freddy Adu arrived at Manchester United's Carrington training ground to begin a two week trial. Major League Soccer side D.C. United had given him permission to join up with the English club, although work permit issues would prevent him from playing any competitive games during his stay. Adu therefore spent most of the fourteen days training with the Manchester United academy players but signs were positive.
"He's only young but we have known of him for a long time," Sir Alex Ferguson stated to the press.
Indeed Freddy Adu, only 17 at the time, was well known in most footballing circles. At the age of 14, he had been chosen by D.C. United as the number one overall pick in the 2004 MLS SuperDraft. In the process he became the youngest American athlete to sign a major league professional sports contract in over 100 years.
The records kept tumbling; in April 2004 he became the youngest player to appear in United States professional sports since 1887 and later in the same month be became the youngest goalscorer in MLS history. In his first two seasons as a professional, Adu scored ten goals. By the time his trial at Manchester United came around he was a two-time MLS All-Star and had also made his debut for the United States national team – the youngest player to do so.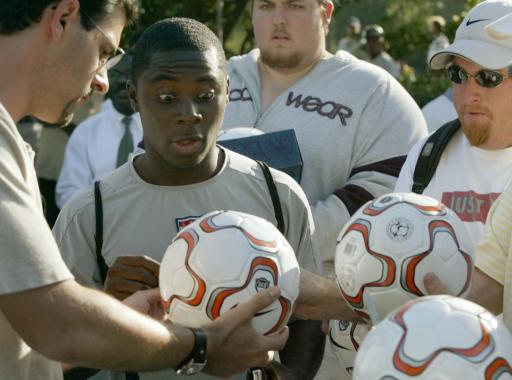 On top of his on-the-field talents, Adu brought to the table his unquestionable marketing potential. He was seen by many as the potential poster boy for U.S. soccer for the next twenty years and had signed a $1million sponsorship deal with Nike. Additionally, Adu had featured in an advert with Brazil legend Pelé and had bagged himself a celebrity girlfriend, teenage popstar JoJo.
When asked by journalists if he would be attempting to sign Adu, Ferguson's reply was straightforward. "I think we would be interested."
After two weeks at Carrington, during which he participated in a brief session with senior players Cristiano Ronaldo and Wayne Rooney, Adu was optimistic about his future. "Hopefully this leads to an offer in January or in the summer transfer window next year. That would be awesome!" he said.
November 2006 must seem like a lifetime ago to Freddy Adu. His move to Manchester United, for whatever reason, never materialised and Chelsea also reportedly turned down the opportunity to sign the youngster. Adu instead signed for MLS side Real Salt Lake in December 2006 before eventually making his much anticipated move to Europe, joining Portuguese side Benfica in July 2007 for a transfer fee of around $2million.
The move to Benfica came as a surprise to some after the press had linked Adu for so long with clubs like Manchester United, Chelsea and Real Madrid. That said, Adu was still just 18 years old and observers were keen to see how he would cope in his new surroundings.
Adu's first season at Benfica could be described as 'frustrating' at best as he managed just eleven league appearances, scoring twice. Unlike in his MLS days, Adu now found himself alongside proven European stars like Rui Costa and hugely talented prospects like Ángel di María. Freddy Adu failed to stand out from the pack and Benfica's coaching team seemed largely unimpressed with his progress.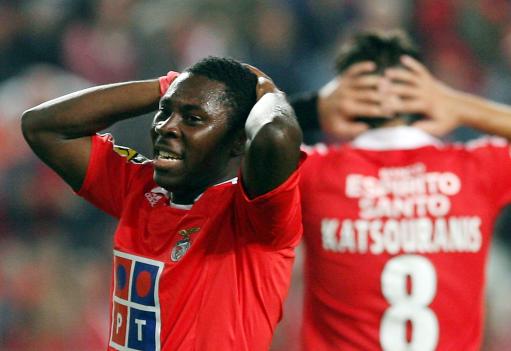 If the 2007/08 season had been frustrating for Adu, what followed was nothing short of disastrous. Benfica decided to loan Adu to AS Monaco for the duration of the 2008/09 season and the French club were even given the option of purchasing Adu at the end of his loan spell; an offer they refused to take up after a season in which Adu featured in just nine league games, failing to score and failing to impress.
Prior the 2009/10 season, Adu returned to Portugal to train with Benfica before being shipped out on loan again, this time to Portuguese club Belenenses. After just three league appearances, Adu's loan to Belenenses was cut short, reportedly in an effort to trim the size of the squad as a cost-cutting measure. In January 2010, Adu began his third loan stint away from Benfica, this time year-long stint at Aris in Greece. Again, Adu found opportunities hard to come by and finished his spell with just nine appearances and one goal.
Following his Greek adventure, Adu's career hit an all-time low in February 2011. Still unwanted by Benfica, he was loaned out once more, this time to Çaykur Rizespor, a second division Turkish side who take their name from a tea company. Although Adu made the best of his time in Turkey; he was named man of the match on his debut and scored four league goals in eleven appearances, it was clear by now that his time in Europe had been a failure and he had fallen woefully short of living up to expectations. The second tier of Turkish football is, after all, a million miles away from Manchester United or Real Madrid.
In August 2011, Freddy Adu finally sealed a permanent move away from Portugal and Europe, returning home to the United States to join Philadelphia Union, where he links up with his former coach at D.C. United, Piotr Nowak.
Very early in his career, Adu was likened to Pelé by one football writer. In the last four years, his career has regressed to such an extent that writers are now likening it to Benjamin Button's life. His European dream turned into something of a nightmare and many already hold him up as a prime example of a footballer who failed to live up to his hype.
At this stage, it would be foolish to completely write Adu off. He is still only 22 and you do not have to look too far to find examples of footballers who failed to realise their full potential until into their twenties. In his early twenties, Didier Drogba was playing second division French football and struggling to break into the Le Mans side ahead of former Hull City striker Daniel Cousin.
And recent signs have been more promising for Adu. He was a shock inclusion in the USA squad for the 2011 CONCACAF Gold Cup, where he made a telling contribution as a substitute in the semi-final match against Panama and was given a starting role in the final against Mexico. Although the United States lost the match 4-2, Adu impressed and it was his corner kick which led to the opening goal, scored by Michael Bradley.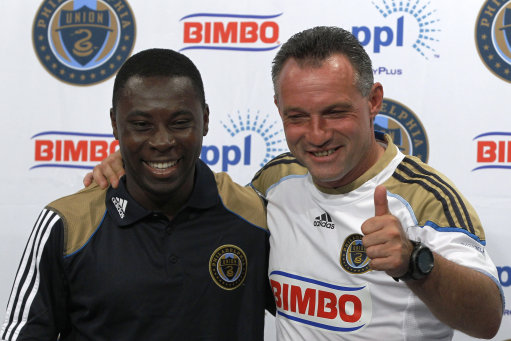 His move back to MLS offers Adu a chance to get back to basics and potentially revive his career, at least in the States. Football in the U.S. is a different animal now from the league where Adu smashed records as a teenager but the hope remains that he will go on to establish himself as one of the top players in the league.
In Europe though, barring a complete career revival in the next few years, it seems Freddy Adu's tale will end up little more than a cautionary one. A player placed under intense scrutiny as a child who failed to make the grade in a top European league as an adult. A kid who was given too much, too soon; weighed down by the unrealistic expectations of a nation still desperate for its first worldwide footballing superstar.