White Hart Lane boss tells Emirates rival what he should do.
Wigan v Tottenham Live Streaming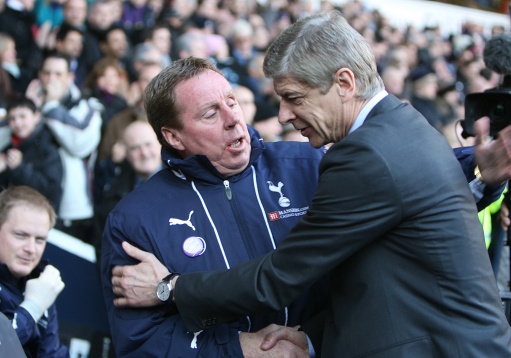 Tottenham Hotspur manager Harry Redknapp has told Arsenal counterpart Arsene Wenger to hire a defensive coach.
The Spurs boss insists the Frenchman is wrong not to employ a specialised backroom member to fix the frailties in his backline.
The Gunners have started the season badly due largely to horrific defensive displays, notably in the 8-2 thrashing at Manchester United and the 4-3 defeat at Blackburn.
Wenger was not impressed when asked if he would consider bringing in Martin Keown or Tony Adams back to the club to help teach the new players how to defend.
Redknapp insists specialised coaches for each position on the pitch could only have a positive effect and uses American football as an example.
"Arsene is entitled to his own opinion but I think it won't be long before we go down the American football route and have specialised coaches for every position in the team," Redknapp told The Sun.
"I played out in America and got hooked on the NFL while there. They are years ahead of us in terms of coaching.
"They have quarterback coaches, wide receiver coaches, a coach for almost every conceivable aspect of the game.
"I see nothing wrong with it. It will only improve the players and, as a result, improve the end product which is designed to entertain the fans."
"Sometimes you have a group of 20 players and you try to do something that caters for them all and you come away afterwards and wonder what you have actually achieved," he added.
"If my chairman rings me today and says 'Harry, we want to bring in some more specialised coaches for you' I'd be delighted.
"After all, we have expert dieticians, expert medics and expert fitness guys. Why not expert trainers to get the best out of your players?"
Join the FREE CaughtOffside Fantasy Football League and Win Big Prizes!