Etihad Stadium star feels bitter about Old Trafford treatment.
Manchester City v Everton Live Streaming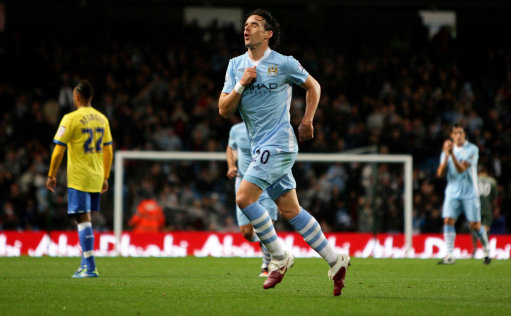 Manchester City midfielder Owen Hargreaves felt like a "guinea pig" at former club Manchester United after treatment on his knee problems.
The 30-year-old spent four seasons at Old Trafford, but persistent tendinitis resulted in the player undergoing double knee surgery during the 2008/09 season.
Following the operations, the England international played only six minutes of first-team football before being released by the Red Devils last summer.
He is now enjoying a new lease of life at the Etihad Stadium and scored on his debut against Birmingham City in the Carling Cup in midweek.
But Hargreaves claims the medical treatment he received at United did more harm than good.
"I received some injections but my tendon was never the same," he said.
"After the injections, I tried to get back on my feet and they said my tendon was good, but it felt like I was made out of glass. That obviously had a huge impact.
"With my tendon injury, I've had to be a guinea pig for a lot of these treatments. It's difficult.
"All the people there [at United] are lovely and everybody tries their best, but at times you come to a certain point where you need to make a decision.
"They said it would help. Basically, I was left to pick up the pieces, which was incredibly frustrating.
"I wanted to play. Everyone wanted me to play, so it's not really an option to say, 'sit it out and rest for six months'.
"With hindsight it's a lot easier, but I wish I had not had the injections."
Hargreaves now hopes his injury hell is behind him, but he knows he will have to manage himself in order to avoid more knee problems in the future.
"I had big surgery, so we're just going to have to be smart," he added.
"My physical function is very good, it's tip-top, but sadly, I'm not 18 any more, so I need more recovery and more time in the gym to prepare for each training session.
"It's just about getting some repetition in my training and trying to find some balance, staying sharp and fit and looking after some of the issues I've had.
"United are one of the biggest clubs in the world, with Barcelona and Real Madrid. They have a lot of wonderful people there.
"I'm sad for myself that I wasn't able to play a bigger part at Old Trafford – I really envisaged it going differently.
"It didn't really materialise the way I anticipated, but this is a new chapter in my life."
Join the FREE CaughtOffside Fantasy Football League and Win Big Prizes!