Not the best preparation ahead of the Mancunian derby!
Man United v Man City Live Streaming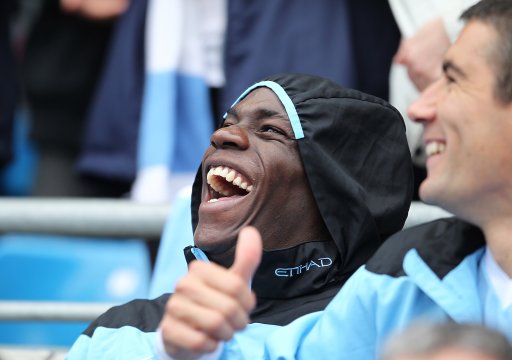 Mario Balotelli's remarkable capacity for self-inflicted problems resurfaced on the eve of the Manchester derby when he had to escape from his burning house after a fire caused by letting off fireworks in the bathroom in the early hours of Saturday morning.
Balotelli escaped unhurt but will be summoned to see Roberto Mancini to explain the latest moment of madness in his chequered career. City have been contacted by the fire service and Mancini will want to know what Balotelli was doing putting himself in such a position before their biggest match of the season.
Two fire crews using breathing apparatus put out the flames after being called to Balotelli's house just before 1am on Saturday to deal with what has been described as "a substantial fire" on the first floor. The property, in Mottram St Andrew, Cheshire, sustained serious fire and smoke damage and the police were also called – in part to ensure Balotelli did not go back into the house. The striker is said to have been reluctant to leave his belongings and, at one point, to have run back inside to recover a quantity of money and a suitcase.
SOURCE: Guardian
It comes to something when an incident like this doesn't surprise many, such is the madcap world that Mario Balotelli appears to live in. Remember this is the man who 'accidentally' broke into a women's prison, among other escapades. However it does seem that the Man City man is happier at the Etihad Stadium side now than he was a year ago and Roberto Mancini whilst not likely to approve of shooting fireworks out of your bathroom window may still opt to not come down to hard on the Italian international.
By far the best part of this story is the fact that the former Inter Milan man had to run back in the house to collect a large sum of money and a suitcase. By all accounts no one was harmed in the incident but Roberto may want to issue a firework ban for the foreseeable future.
Join the FREE CaughtOffside Fantasy Football League and Win Big Prizes!