Nou Camp incident results in red card.
Man United v Man City Live Streaming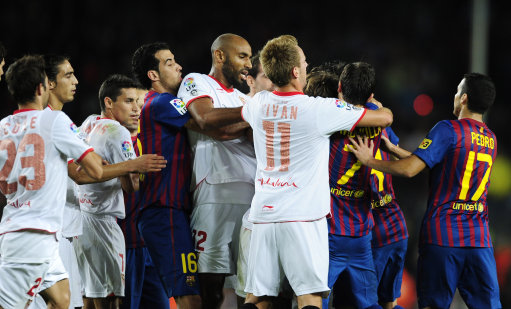 Sevilla striker Frederic Kanoute has reportedly claimed that Barcelona midfielder called him a terrorist in an incident that led to the former Tottenham man confront the one time Arsenal captain that led to his sending off. All of this occurred after the Nou Camp side had been awarded a debatable penalty which Leo Messi then missed.
Here is a video of the incident.
It seems clear that something must have been said as the 34 year old striker reacts immediately and moves towards the Spanish international and is visibly distressed, in the ensuing melee Fabregas falls to the floor and the referee then sends off Kanoute.
These claims attributed to Kanoute as yet have not been officially confirmed but are being discussed on various Spanish news sources. We hasten to add that no direct confirmation of this claim have been attributed to the Mali international but reports relating to the claim are present across the web and many sources.
Join the FREE CaughtOffside Fantasy Football League and Win Big Prizes!