Villa Park defender free to play the next game.
Sunderland v Aston Villa Live Streaming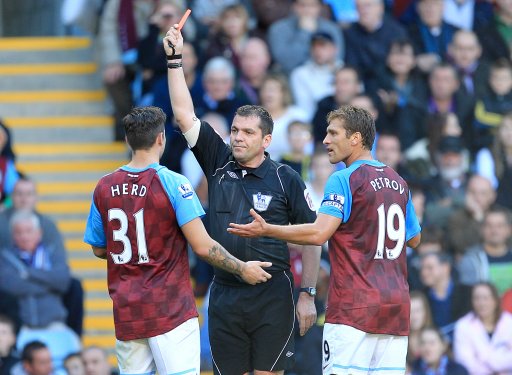 Aston Villa defender Chris Herd has won his appeal against the red card he received against West Bromwich Albion last Saturday.
The 22-year-old was sent off during the 2-1 defeat to their derby rivals after a tangle with Albion defender Jonas Olsson.
The Australian was facing a three-game ban for violent conduct following allegations of a stamp on the opposition player.
TV replays were unclear over exactly why Herd was sent off with the decision being made by the linesman.
Aston Villa immediately appealed the decision to the Football Association, who agreed the card and suspension should be rescinded.
"Aston Villa's Chris Herd has had his claim for wrongful dismissal upheld," the FA said in a statement.
"As a result, the three-match suspension handed to him has been withdrawn.
"Herd had originally received a red card for violent conduct against West Bromwich Albion at Villa Park on Saturday 22 October."
Meanwhile Villa boss Alex McLeish has backed midfielder Fabian Delph to produce the goods after his long comeback from injury.
The 21-year-old was out injured for eight months with a cruciate knee ligament injury but has returned this term full of vigour.
"We have pushed Fabian back into the limelight after being out for a long time injury-wise and he has played nine games in a row and he should be proud of that," he told the club's website.
"There is so much to come from him too. I know he is a guy who cares and studies his game, looks over it again with the IT guy.
"He is someone who wants to be as good as he can be."