The Risk and Johnny Robinson were voted off the show this weekend.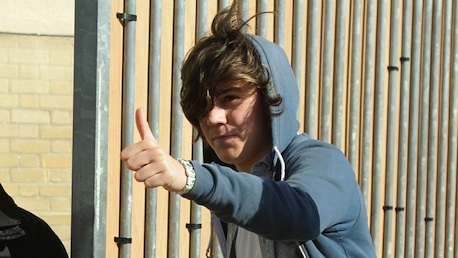 X Factor viewers were left shocked this week, as the controversial Frankie Cocozza kept his place in the competition, despite the double elimination. The contestant was again criticised for his performance by the judges, with Louis Walsh decribing the singer's rendition of The Black Eyed Peas' I Gotta Feeling as. "Really bad karaoke," going on to say, "I don't know how you're still here. You're not a rock star, you'll never be a rock star and the only big thing about you is your hair."
Only seven contestants remain in this year's X Factor competition, following the double elimination. Boy-band The Risk received the least number of votes from the public, whilst Johnny Robinson was voted off the competition by the judges after going up against Kitty Brucknell in the "sing-off."
Janet Devlin remains the bookies favourite to win the competition, despite forgetting the words during her version of the Jackson Five's I Want You Back, with Craig Colton, Marcus Collins, Little Mix and Misha B making up the remaining contestants.
The double eviction caused a significant increase in viewing figures for the ITV show this week, with the audience peaking at around 14.2 million.
The remaining seven X Factor contestants are likely to take part in next year's X Factor Live Tour, which is set to hit UK arenas throughout February, March and April. The stars of the current series will perform hits from the show at venues such as London O2 Arena, Manchester MEN Arena and Birmingham LG Arena. X Factor tickets are on sale now.