Potential Group of Death and Group of Life revealed for both England and Ireland.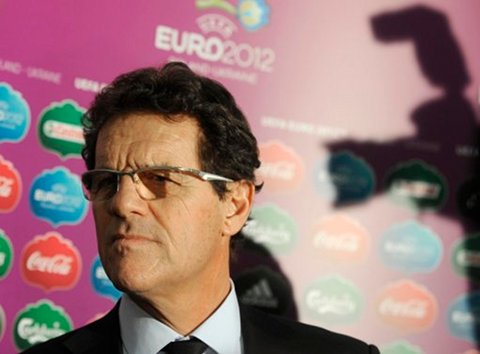 UEFA has announced the seedings for the UEFA EURO 2012 finals draw at the Palace of Arts in Kyiv, Ukraine at 18.00CET (17.00 GMT) on Friday 2 December.
The 16 teams will been drawn into four groups of four teams each (Groups A to D).  Four seeding pots will be created, with the host associations Poland and Ukraine being top seeds. Poland will be automatically placed in Group A as A1, Ukraine in Group D as D1.
The reigning champions Spain will be placed in Pot 1, together with the Netherlands, the team with the highest national team coefficient, as established at the conclusion of the play-off matches.
The other 12 qualifiers have been allocated to the remaining three pots according to their respective coefficients.
Pot 1: Spain, Netherlands, Poland, Ukraine
Pot 2: Germany, Italy, England, Russia
Pot 3: Croatia, Greece, Portugal, Sweden
Pot 4: Denmark, France, Czech Republic, Republic of Ireland
England cannot be drawn alongside Italy, Germany or Russia, while the Republic of Ireland cannot meet Denmark, Czech Republic – or World Cup 2010 nemeses France.
Both countries will hope to avoid a group with World Cup finalists Spain and Holland, and so Fabio Capello and Giovanni Trapattoni will be praying for places with the hosts in either Group A or D.
The worst and best case scenarios for each team would surely be as follows:
ENGLAND
Worst:
Spain
England
Portugal
France
Best:
Poland
England
Greece
Denmark
REPUBLIC OF IRELAND
Worst:
Spain
Germany
Portugal
Republic of Ireland
Best:
Poland
England
Greece
Republic of Ireland