Dutch veteran out of a job.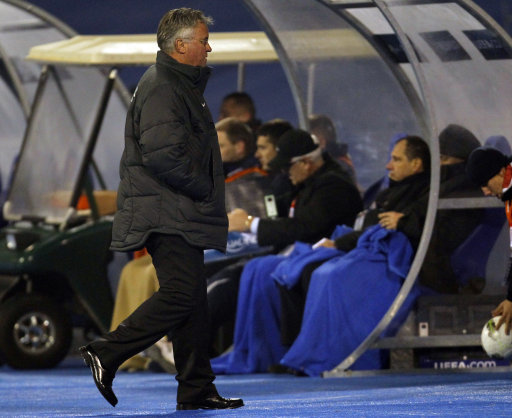 Guus Hiddink has stepped down as Turkey coach after his side failed to qualify for the Euro 2012 finals.
The Turkish football federation says it has reached a mutual agreement to end the former Chelsea manager's contract, which was due to expire next summer.
Turkey lost 3-0 on aggregate to Croatia after a 0-0 draw in the second leg of the play-offs on Tuesday.
Hiddink had previously led the Netherlands, South Korea, Australia and Russia, plus club sides including PSV Eindhoven, Real Madrid and Chelsea.
A statement on the official TFF website read: "We would like to thank Mr Guus Hiddink for his services during his working period, and wish him all the best in his future career."
SOURCE: BBC Sport
65 year old Hiddink has a great record in management but his time as Turkey coach must be considered a failure. Whilst Turkey's Euro 2012 group did indeed include a Germany side that won ten out of ten matches it is still true that his side did not cover themselves in glory during the qualification process losing to Azerbaijan and the 3-0 defeat at home to Croatia must have come as an embarrassment to the Dutchman.
Expect Hiddink to be linked with a number of big vacancies in the coming months.