Old Trafford boss keen on Emirates Stadium striker.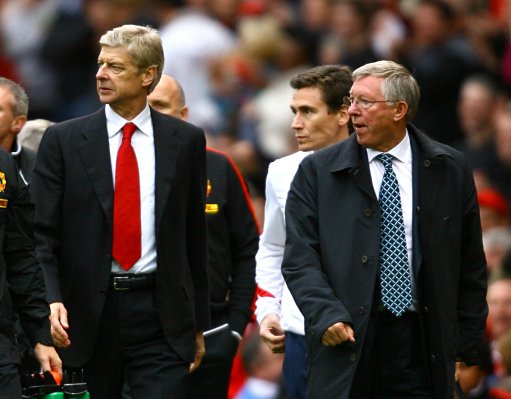 Manchester United and Chelsea are monitoring the contract situation of Arsenal captain Robin van Persie, it has been claimed.
The Dutch striker has 18 months to run on his current deal but will not enter into talks regarding an extension until the New Year.
According to The Guardian, both Chelsea and Manchester United retain an interest in van Persie, who has been in sensational form this year.
The 28-year-old has found the net for Arsenal 11 times already this term, while he has 40 goals in his last 44 appearances for club and country.
This, it would appear, has seen Andre Villas-Boas and Sir Alex Ferguson take note, with Stamford Bridge and Old Trafford now touted as potential destinations, should van Persie decide against extending his Arsenal stay.
Arsenal will, of course, be at loathe to let their skipper leave – particularly to a direct rival like Chelsea or United.
SOURCE: Give Me Football – Official PFA Website
As long as Robin Van Persie holds out on signing a new deal then there will continue to be a great deal of speculation that the Dutchman will be looking at his options in the summer and if Arsenal have failed to have at the very least secured a top four finish then many, including Arsene Wenger, will worry that the 28 year old may be tempted to consider a new challenge after a lengthy period at the North London club without any tangible success.
Interest from Man United and Chelsea will surely be cause for concern and a number of sides on the continent, reportedly including Inter Milan and Real Madrid, are also keen to bring in the in form Arsenal man who has less than 18 months to run on his current contract.
Whilst Arsenal have reportedly prepared a new deal that includes a pay rise of £20k a week it seems likely that Chelsea, and Man City who are also linked with the striker, can offer a great deal more.
Arsene Wenger brought in Gervinho and Park Chu-Young to help share the goal-scoring burden but as yet neither have done so and luckily Van Persie has been in fine form but clearly the former Feyenoord man has had injury issues and if they were to strike again then Arsenal's efforts to reverse a woeful start to the season may well amount to nothing, such is the importance to the club of the club skipper.
However Man United would appear to have more than enough attacking options at present with the Javier Hernandez and Wayne Rooney as Sir Alex Ferguson's first choice pairing and has the likes of Danny Welbeck, Dimitar Berbatov and Michael Owen to call upon as back-up, that doesn't however mean that the Scot wouldn't be keen on such an in form performer as Robin Van Persie.