Reasons to be cheerful part 3.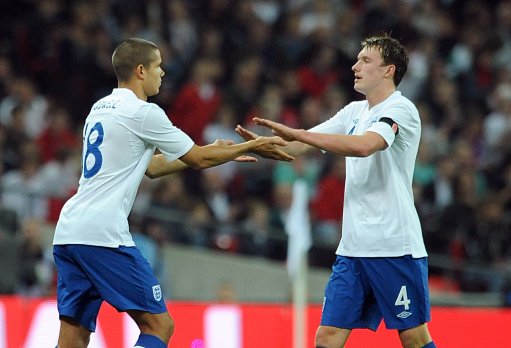 Why the glum faces? The usual hubris and hyperbole from English media and fans surrounding the performance of the national team seems to have been replaced in recent months with a tipid tone of resignation, of acceptance that this team will not succeed at Euro 2012.
But wait a minute; let's take a look at the facts. A victory over the World and European champions, Spain, followed up by the first success over arch-nemesis Sweden for 43 years (ending a 12 game winless streak), albeit both in friendlies, preceded by an assured and unbeaten qualifying campaign, which saw England comfortably through to the Euro 2012 Finals, with just 5 goals conceded in 8 games. So why have we all jumped off the bandwagon of bloated expectations just when things are actually starting to look quite good?
In fairness to those who fail to be inspired by England's professional displays in the last week, the side has become something of a national emblem of disappointment, even embarrassment over the last 15 years; a period in which wearing the three lions on one's chest seems to have invoked fear in its bearer, rather than in the opponent. Despite a 'golden' generation of players, fans have come to expect failure, so much so that even now, when England actually look to have a promising team once again, no one dare to describe them as a polished outfit, let alone as contenders for a major championships.
But let's take heads out of hands and embrace the future, because things are looking good, no really. Consider the best side (in this writer's opinion) that Fabio Capello, could put out: Joe Hart in goal; Kyle Walker, John Terry, Phil Jones and Ashley Cole at the back; Walcott and Young on the wings; a central midfield of Scott Parker, Jack Wilshere and Steven Gerrard, with Wayne Rooney up front. Now that is an excellent side. And it's not just excellent on paper, like Sven's talented but disjointed teams; this one should actually work on the pitch.
The positives of such a side are plentiful. Gerrard and Rooney link up well, Wilshere is the key player that England have been missing for years – the one who can get the team moving without bypassing the midfield; meanwhile Walcott and Young look consistently dangerous on the wings, with both able to come inside as well as deliver dangerous crosses. Walcott's improvement this season must be a big boost for Fabio Capello.
But perhaps the greatest asset of this team is its defence. Kyle Walker, man of the match against Sweden, looks like he has the potential to match Ashley Cole's consistently excellent performances for England, both in providing a potent attacking option whilst remaining assured at the back, meanwhile at the centre-back position, England are spoilt, as much as any international side. Indeed, various incarnations of the back line confidently kept out Spain and Sweden, with Joe Hart, finally the excellent keeper England have looked for since the retirement of David Seaman, rarely troubled.     
This team, at full-strength, really could trouble any other side. In particular it has the pace and potential for swift counter-attack necessary to shake the stability and structure which has helped to make Spain look invincible in competitive matches in recent years. Indeed it could be relatively similar in style and substance to the outstanding German side which blew England away in a 4-1 demolition at the last world cup. At least Capello has now learned what many before him failed to do so, that 4-4-2 is out-dated.
But, and of course there is a but, this line-up has not played together regularly, with injuries, particularly to Gerrard and Wilshere – its beating heart – preventing the development of a team, or at least of a team capable of going places in Poland and Ukraine in 2012. And with Rooney suspended for the first three games of the tournament (pending an appeal by the FA), Capello will in any case be unable to play such an eleven in the group stages of the tournament.
However, if all of England's stars are fit going into the group stages, there's no reason why Capello can't forge a team unity and purpose that could be brought to bear in the knockout rounds, should the Rooney-less England make it that far. And what's really important, yes, that old nugget, this team has a blend of youth and experience, the kind that can lead to both young and old inspiring each other to go further.
Morale-boosting speech over, this writer is ducking back down under the safety blanket of low expectations, but not so far that the bright light of hope is completely vanquished.