Interesting insight into the deeper meanings behind the Anfield bust-up.
Watch Swansea City v Man United Live Online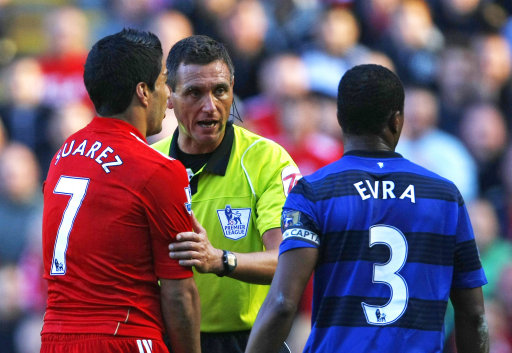 A racially-charged word with many meanings may be at the root of a dispute between two sports rivals that reaches far beyond the soccer field, analysts say.
Suarez, a striker for Liverpool, hasn't specified what he said, but he argues that it wasn't offensive.
British media reports have suggested Suarez used the Spanish word "negrito."
If that's the case, whether Suarez's remark was racist is a complicated question that doesn't have a black-and-white answer, according to scholars who've studied race issues in Latin America.
"It's about questions of translation or context," said Mark Sawyer, director of the Center for the Study of Race, Ethnicity and Politics at the University of California Los Angeles.
The word's literal translation is "little black man." But generally, negrito is not considered a racial slur in Latin America,
Sawyer said. In fact, it frequently has a positive meaning.
"It's often a term of endearment," he said.
But what the word means also depends on where — and how — it's said.
"In Puerto Rico, it has one meaning. In Cuba it has a slightly different connotation and in the Dominican Republic it has a slightly different connotation," said Jorge Chinea, director of the Center for Chicano-Boricua Studies at Wayne State University in Detriot.
SOURCE: CNN
This is an interesting angle on the entire saga. This source goes on to say that in Uruguay such a term is not generally seen as abusive but clearly interpretation of an insult or not is really down to the person who is on the receiving end, and perhaps this is where this entire storm got a foothold.
Suarez has now been charged for the use of offensive and racist language but Liverpool said they will help their striker fight the case. Whichever way you look at it, this incident coupled with those involving John Terry and Sepp Blatter have definitely left a sour taste for those who worship the game, a game that has in recent years tried it's utmost to rid the sport of racism.
Let's hope these incidents are only a minor blip and that the game can continue to be a catalyst for breaking down issues relating to discrimination based on race, gender and sexuality.
We also hasten to add that CNN only alleges that Luis Suarez used the term above and this has not been confirmed by either player.