LA Galaxy man may well be set for his final MLS fixture.
Watch the 2011 MLS Cup Final Live Online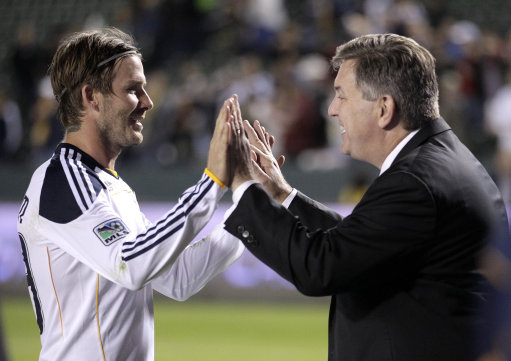 The boss of Major League Soccer says David Beckham has made a "great" contribution to the development of football in the United States.
Don Garber praised Beckham, 36, as the ex-England midfielder is set to play his final match in the US on Sunday.
Garber said at times he regretted the hype of Beckham's arrival at LA Galaxy from Real Madrid in 2006, but not the excitement it generated.
"He's been great for our league and for our game," the MLS commissioner said.
"I had the expectation that MLS would become more popular, that we'd see improved ratings and a different attitude," said Garber.
"I find it amusing that when David came into the league five years ago, many sports media pundits were saying how much he's over the hill, you don't hear that any more, and this is five years later."
SOURCE: BBC Sport
Attendances in the MLS have hit a record high this term and there is no doubting the manner in which the signing of David Beckham by the LA Galaxy has brought a great deal more attention to the game stateside.
Indeed Don Garber is correct to state that Beckham was considered over the hill by many when he first arrived in the USA and after a couple of injury plagued is experiencing his most consistent campaign and tonight faces what could be the last test of his MLS career.
His Galaxy side takes on the Houston Dyanmo on home soil at the Home Depot centre and it will be a fitting end to his time at the club if he can help them secure their first MLS Cup triumph in six years.
There is much speculation that a move to Europe is on the cards and with PSG said to be ready to make a significant offer to the former Man United and Real Madrid man on the cards it seems that the Parc des Prince is odds on to be the 36 year old's next destination.