DW Stadium boss thinks that his club's 'small voice; is costing them dear.
Watch the Premier League Live Online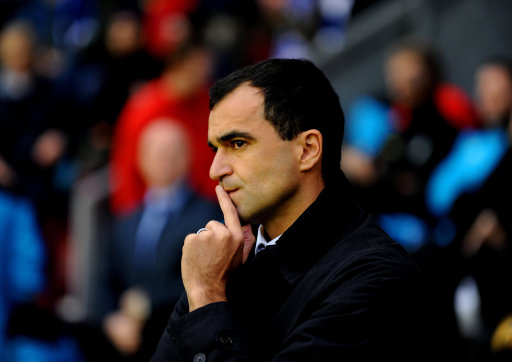 Wigan boss Roberto Martinez believes his club's "small voice" cost them as 10-man Blackburn earned a dramatic late point at the DW Stadium.
Morten Gamst Pedersen's controversial corner led to Junior Hoilett's equaliser, an incident Martinez felt would have got all the headlines "if it had happened at Anfield".
The match ended 3-3 and Martinez was furious the goal stood.
"It was a scandalous decision. It's ridiculous," said the Spaniard.
"If I am going to be honest about it I am going to get into trouble and it is going to cost me a lot of money. But it seems too easy to get these decisions wrong. We are a small voice in the competition and we played like a real giant in the competition in the manner in which we coped with the pressure of getting a result. The decision is hard to take and hard to explain. It didn't seem to me that he [Yakubu] touched the ball, so how he [the referee] could allow that is really hurtful.
"The players don't know why it was allowed. It's my fault because I ask the players not to complain or get in trouble with dissent or dive – and it's costing us points."
SOURCE: BBC Sport
Does Roberto Martinez have a point? Will big teams always get the rub of the green? Well yes, and no. Yesterday's incident, that saw Morten Gamst Pedersen take a corner to himself, was a freak occurrence and one would have hoped that if that happened in the Champions League Final or in a Sunday League match that someone would do something about it.
Whether Wigan don't dive or complain to the referee is another matter, after all there are other teams who similarly don't mass around officials every time a thrown on doesn't go their way.
If Wigan once again find themselves in the relegation zone or thereabouts come May then it will have little to do with poor refereeing or a lack of a 'voice' and more to do with the fact that the Latics don't have the spending power to keep their club above the perforated relegation line.
Martinez is doing a sterling job as Wigan boss and it's miraculous that they have managed to stick it out in the top tier in recent seasons.