Pink boots may only be seen at the Emirates Stadium once a season from now on…
Watch the Champions League Live Online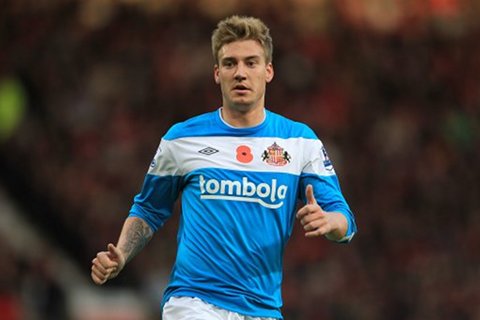 NICKLAS Bendtner says his views over his future at Sunderland have been lost in translation.
In interviews given in his home country earlier this month, the Danish striker was quoted saying he wanted to be playing Champions League football next season – an ambition which would seem to rule him out of any prolonged stay at the Stadium of Light.
But this week at the Academy, the on-loan 23-year-old Arsenal man insisted those putting two and two together and insisting there's no way he"ll be at Sunderland next season have got it wrong.
"I've never hidden the fact that I'm very keen to play in the Champions League again," he said.
"But I also read that I'd said if I don't play in the Champions League, I won't be playing for Sunderland.
"That's not the case, but that's how they mis-interpret Danish into English.
"As a player, you should have ambition – I'm sure every player you speak to wants to play in the Champions League.
"But I haven't ruled out staying at Sunderland.
"As I've said before, I just want to enjoy the year I have here and then see what happens in the summer."
SOURCE: Sunderland Echo
It is fair to say that Nicklas Bendtner has been a source of enormous frustration over the years for Arsenal.
Claims of hoping to become the best striker in the world were greeted with widespread scorn – amongst followers of Arsenal and rival fans.
Good control and a finish in the last minute against Barcelona might have put Arsenal through in last season's UEFA Champions League quarter final on away goals.
Instead, Bendtner's first touch is more commonly compared to a clearance.
Still, the great Dane has provided plenty of decent moments for Arsenal fans to savour too.
A hat-trick against Porto in the UEFA Champions League, a late winner against Wolverhampton Wanderers in March 2010, and not being Marouane Chamakh are reasons some more forgiving Arsenal fans might welcome Bendtner back to the Emirates, but perhaps ultimately both parties would benefit from moving on.