Anfield playmaker Joe Cole could prolong his stay in Lille.
Watch the Champions League Live Online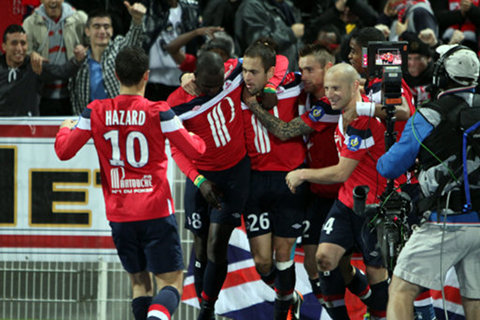 Lille's on-loan Liverpool midfielder Joe Cole could remain at the Ligue 1 club past the end of the season, according to president Michel Seydoux.
Cole has made a good impression at Lille, who could still reach the knockout stages of the Champions League.
Lille won 2-0 away to CSKA Moscow last night to lie third in Group B, one point behind Turkish side Trabzonspor, who they play at home in the final game.
Seydoux told RTL: "It is not a certainty that he will leave us at the end his contract.
"If he has a certain good feeling with Lille and we can make him an interesting offer. This is something that we will look into."
SOURCE: Independent
In Moscow last night, Lille fans chanted Joe Cole's name.
It is fair to say that it showed an affection the on-loan Liverpool playmaker has never quite received at Anfield – except perhaps from Steven Gerrard, who compared him with Lionel Messi.
At Lille though, Cole has been liberated on the field of play, operating in tandem with the mercurial talent of Eden Hazard and demonstrating the talent that many had written off.
Cole has embraced life in France – and though many have written off Ligue 1 as inferior to the Premier League, the standard is far higher than that of a decade ago.
In addition, the UEFA Champions League football he takes part in may yet prove enough to win him back his place in the England squad.
Perhaps the offer of a permanent move to France could be something that Joe Cole grabs with both hands.