Anfield skipper still has no return date in place.
Watch the Premier League Live Online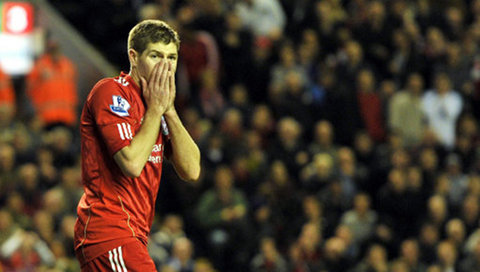 Kenny Dalglish today reiterated that Steven Gerrard is making good progress in his rehabilitation – and reported no new injury concerns ahead of Sunday's mouthwatering encounter with Manchester City.
The skipper is still ruled out with an ankle infection for the showdown with the league leaders but the boss remains positive about his long-term fitness.
Dalglish told his pre-match press conference: "Like we've already said, we are delighted with the progress he's making and we've said that we won't put a date on his return – and we won't put a date on it now. We are very happy with his progress.
SOURCE: Liverpool official website
When Liverpool captain Steven Gerrard suffered his ankle infection at the end of October, it was believed that he would only miss around two weeks.
"Steven Gerrard has now undergone treatment to clear out all infection from his right ankle, which has been placed in a protective plaster cast," declared a club statement.
"The player will not be available for this weekend's game against Swansea City or for the upcoming England friendlies against Spain and Sweden."
However, more than three weeks later, and Liverpool still appear reluctant to put a date on their talisman's return.
Are Liverpool just waiting until they are absolutely certain no relapse will occur?
Certainly Reds fans will hope nothing more serious has been diagnosed.