Don't worry Barcelona fans, it's not what you think.
Watch the Premier League Live Online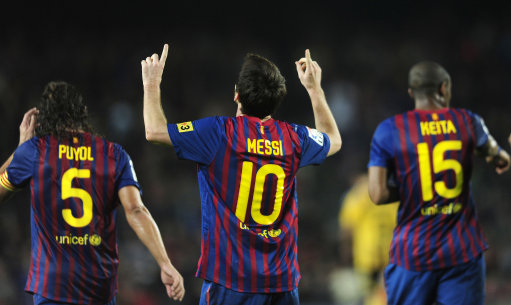 Argentine soccer star Lionel Messi has signed a multi-year endorsement deal with Electronic Arts Inc to front its EA Sports Fifa Soccer franchise. The 2010 Fifa Ballon d'Or 2010 winner will make his debut for EA Sports in March 2012 on the cover of its Fifa Street videogame.
The partnership will see the 24-year-old Barcelona striker, who was previously the face of rival soccer videogame maker Konami's Pro Evolution Soccer franchise, serve as a global ambassador for EA Sports and play a central role in its advertising and marketing campaigns both on packaging and through social media.
In a release, Electronic Arts called the acquisition "the biggest transfer deal this season."
"Our Fifa franchise is the number one selling sports videogame franchise in the world, and Lionel Messi is the number one player in the world, so this agreement is a true partnership of superstars," said Matt Bilbey, vice president and general manager of soccer, EA Sports, in the statement.
"With Messi on our team we have the world's best and most exciting player to help EA Sports maintain its global leadership in the years ahead."
SOURCE: Sports Pro Media
This is quite a coup in the video game world and a move that really does leave Konami scrambling around to find a suitable figurehead for their Pro Evolution Series. We would recommend footballing deity Emile Heskey as the Aston Villa man may well be the man to take on Leo Messi as he leads the EA Sports' FIFA campaign.
Anyway, below is the latest advert for FIFA Street, starring the Barcelona star.