Etihad Stadium side to bid big for Emirates Stadium striker.
Watch Liverpool v Man City Live Online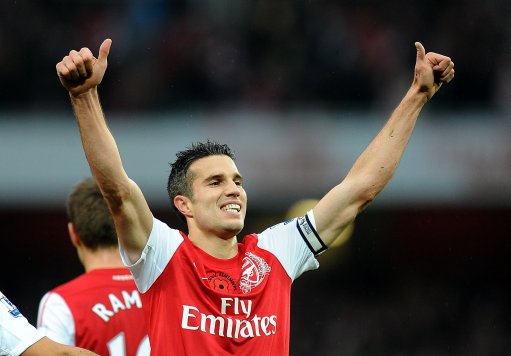 Manchester City to go Dutch with bid for Van Persie as they look to become Europe's best
Manchester City will react to their likely exit from this season's Champions League by stepping up their attempt to sign Robin van Persie this summer.
Although the club's oil-rich owners will accept the Premier League title and possible success in the two domestic cups as consolation for European failure this time, they will underpin their determination to create the best team on the continent at the Etihad Stadium with a money-no-object bid for Arsenal's 28-year-old goal machine.
SOURCE: Daily Mail
Some sources believe that Roberto Mancini may offer as much as £40m to tempt Arsenal into selling their prized asset, surely an offer the North London club would turn down, but perhaps an offer that may lure Robin Van Persie into forcing just such a transfer?
Given that Man City have netted an astonishing 42 goals in 12 Premier League matches one would wonder whether Mancini needs more striking options but perhaps he feels that a player of Robin Van Persie's obvious abilities may be even more of a threat in Europe, where the domestic league leaders have struggled.
Clearly any move for Van Persie would be partly financed by the sale of Carlos Tevez, with a deal with AC Milan on the cards, but even then Roberto Mancini still has the likes of Sergio Aguero, Mario Balotelli and Edin Dzeko to call upon.
Arsene Wenger has admitted that his Arsenal side over rely on the Dutch international and the Gunners boss has been linked with moves to bring in effective support for the striker. Summer signings Gervinho and Park Chu-Young have failed to make an impact in goal-scoring terms, though the South Korean is actually still yet to get a chance to prove himself. Marouane Chamakh is off form and Nicklas Bendtner and Carlos Vela are likely to be sold.
Robin Van Persie has netted an incredible 44 goals for club and country in 2011 and put to bed the long standing injury issues that had plagued the former Feyenoord man for quite some time.