Stadium of Light looks for excuses as clock ticks on his managerial future.
Watch the Premier League Live Online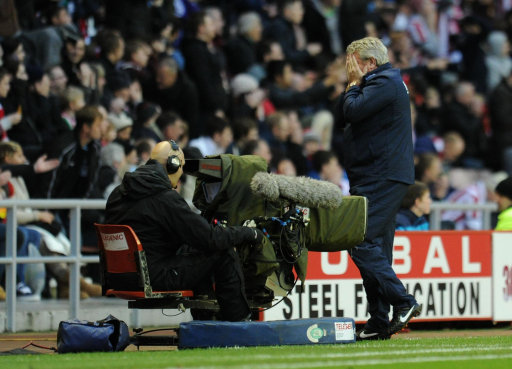 Steve Bruce on brink as Sunderland fans' vitriol reaches fever pitch
Steve Bruce had to endure abusive chants from Sunderland fans as his side slipped to a home defeat by Wigan.
By early Saturday evening some Sunderland fans were running sweepstakes, with wagers placed on the day and hour of Steve Bruce's predicted sacking. Others preferred to debate the succession and ponder the respective merits of, among others, Mark Hughes, Martin O'Neill, David Moyes and Steve McClaren. By 5.30pm Sunday bookmakers had suspended betting on Bruce's dismissal.
Bruce was asked if things had reached the point of no return. "Can I turn the relationship around?" he mused. "I don't know. It's going to be very, very difficult. I would never walk away, never. But If I thought that by going it would help everybody then I would consider it, I'd certainly have a think about it. I don't think that at the minute, though.
"I just want to try to get it right. Hopefully the criticism has bottomed out today; I don't think it's ever been as bad as that. It borders on abuse. That's just the way it is, though, and I have to accept it. I cannot help where I was born."
That last somewhat disingenuous comment will not play well with the majority of Sunderland fans, who simply do not care about Bruce's roots or his boyhood adoration of Newcastle United.
SOURCE: Guardian
Indeed, Steve Bruce's attempts to sway the focus of blame from his poor record as Black Cats boss to the subject of his birthplace is more than a little pathetic and perhaps the act of a man on the brink.
A home defeat to Wigan is a new low and the Sunderland boss can not simply get away from the fact that despite being handed significant transfer funds and enough time to turn things around, he has simply failed in his job at the Stadium of Light.
In his two and a half years as Sunderland boss Bruce has presided over 29 wins and 41 defeats. Over the summer he spent in excess of £30m on new players but has seen his side slip down the table after a series of poor performances. The club's only wins this term have come at home to Stoke City and away at struggling Bolton.