Ever so slightly suspicious behaviour at the Bridge.
Watch Chelsea v Liverpool Carling Cup Quarter Final Live Online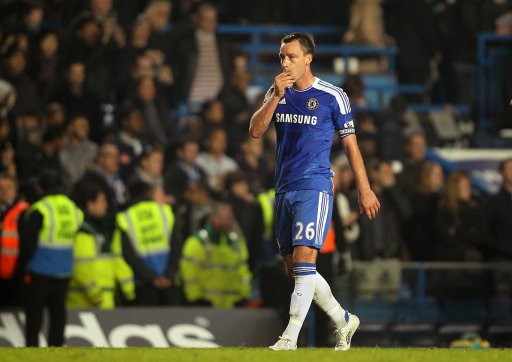 England captain John Terry has set tongues wagging with a bizarre yellow card for Chelsea at Stamford Bridge.
With the Blues cruising to a 3-0 Premier League win against Wolves in the 90th minute, Terry took an age dawdling over a throw-in and referee Lee Mason booked him for time-wasting.
Having been carded, Terry then tossed the ball to team-mate Juan Mata and jogged off.
The booking was Terry's fifth of the season, triggering an automatic one-match suspension.
Chelsea's next game is a Carling Cup tie against Liverpool, for which Terry may have been rested anyway, meaning he can serve his ban without missing any Premier League action.
He returns in time for the trip to St James's Park to face Newcastle on Saturday.
The convenient timing led some to speculate whether Terry got booked on purpose, but Chelsea manager Andre Villas-Boas insisted this was not the case.
Villas-Boas said: "Terry got a yellow card from a throw-in. Ashley Cole was looking for the best options and couldn't find any so Terry's out on Tuesday.
"It wasn't a deliberate yellow card as they're not allowed by UEFA. Frank Lampard was also on four yellow cards and we didn't force it."
SOURCE: Eurosport
Very fishy. Love the way Andre Villas-Boas's defence against this being a deliberate ploy being that 'UEFA doesn't allow deliberate yellow cards' as if that would prevent a player from 'deliberately' getting booked.
We are looking to dig up video footage of the incident, the obvious question would have to be, why was John Terry taking the throw-in in the first place? Also the idea that Chelsea didn't use the same 'trick' with Frank Lampard as also being some case for the defence is misleading. Clearly if Frank Lampard then took an age to take a free-kick then it would look like a pretty huge coincidence.
Lest we forget that former Blues boss, and close friend of Andre Villas-Boas, Jose Mourinho tried this self same trick with Real Madrid in Champions League action last term. Coincidence?