Stamford Bridge skipper in pre-arranged meeting with officers.
Watch Chelsea v Liverpool Carling Cup Quarter Final Live Online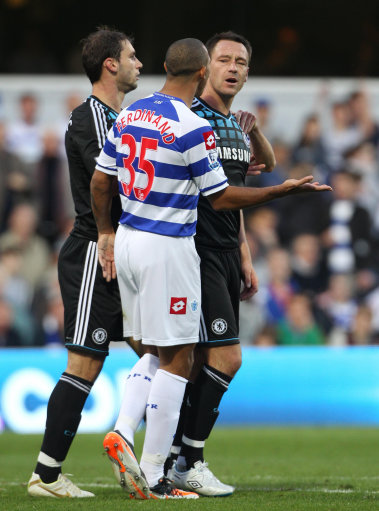 Police have quizzed England captain John Terry under caution about his alleged racist rant.
Terry was interviewed by officers from Hammersmith and Fulham Police last Friday following his ugly on-pitch clash with Anton Ferdinand.
The Chelsea defender, 30, was not arrested during the meeting which had been pre-arranged by police.
He is thought to have denied making racist remarks and insisted his words have been taken out of context.
Terry is said to have called Ferdinand a "f****** black c***" during a stormy Premier League match against QPR last month.
Terry strenuously denies the claim.
SOURCE: Daily Mirror
Isn't it a little odd that the police are only now interviewing John Terry over this matter, over a month after the incident took place at Loftus Road on the 23rd of October.
This case has dragged on incessantly whilst at the same time other incidents have hit the headlines both before and after the West London race row. Luis Suarez has now been charged over his alleged abuse of Patrice Evra and FIFA president Sepp Blatter made some incredibly ridiculous, even for him, statements about racism in the game.
John Terry has retained his England captaincy but one wonders what, if any, punishment will be handed out to the defender if he found guilty of any wrongdoing, both by the FA and the police.