A piece of history!
Watch the Premier League Live Online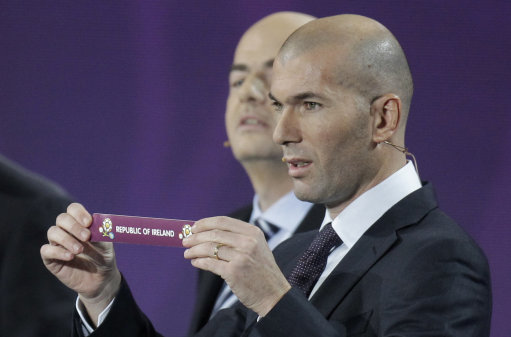 So we've been given a bit of history by Adidas and now you can win it from us!
We've been handed the ACTUAL balls (including the pieces of paper contained within) from the Euro 2012 draw in Kiev. We have the balls from Group C which include SPAIN, REPUBLIC OF IRELAND, CROATIA and ITALY.
This is a magical prize that could of course become all the more magical if any of the four sides triumphs in the Euro 2012 finals!
Winning said prize couldn't be easier.
Step one, join our Facebook Fan Page, do so by CLICKING HERE. If you are already a member of our fan-page then you already have step one covered.
Then Simply email us the answer to the question below to be in with a shout of winning this wonderful, and unique, prize.
Q. Has Emile Heskey ever scored an England international goal in European Championship matches (both qualifying and finals matches count)
Email us your answer to editor@caughtoffside.com
Remember you must join the Facebook Fan Page in order to be in with a chance of winning this marvelous prize.
Closing date for entries is Monday 5th December at 10am UK Time. We will announce the winner on site on Monday afternoon.
We heartily thank Adidas for this historic prize. Why not follow them on Twitter @adidasfootball or on their Facebook page.
Terms and Conditions – "Euro 2012 Draw Balls" Competition
To enter the competition "Draw Balls", go to one of the participating partner sites (whoateallthepies.tv, offthepost.info, epltalk.com and caughtoffside.com) and then answer the trivia question(s) as instructed.
The competition is not open to employees of the Promoters, their families, agencies and anyone to whom they are professionally connected. Proof of age and address may be required.
Once your answer(s) have been submitted they cannot be altered or resubmitted.
Acceptance of these terms and conditions is a condition of entry and the entry instructions form part of these terms and conditions. By entering into the competition you agree to be legally bound by these terms and conditions. The Promoters reserve the right to exclude entrants who do not comply with any of these terms and conditions.
The prizes shall differ depending on each particular competition (determined by which participating partner site is hosting each competition) and are to be described on the participating partner sites and shall consist of a group the miniature draw balls from the UEFA Euro 2012 draw (determined by the UEFA Euro 2012 groups as determined by the official draw on 2nd December). The prizes for individual competitions may also include signed products.
The Promoter and participating partner sites shall not be responsible or liable for any expenses incurred by the winner and/or guest over and above the prize offered.
The Promoter and participating partner sites shall be entitled to remove any entry that contains any inappropriate material such as material which in the Promoter's absolute discretion may be considered offensive, sexist, racist, unlawful, defamatory or derogatory.
The winner of each individual competition will be drawn at random from all received correct answers.
The Promoters will notify the prize winners shortly thereafter via email. If a winner cannot be located, fails to confirm acceptance of their prize within 24 hours of notification or cannot make use of the prize for any reason, the Promoters reserve the right to select an alternative winner.
The representative's decision is final and binding and no correspondence will be entered into.
The winner agrees not to sell, offer to sell or use the prize for any commercial or promotional purpose (including placing the prize on an internet auction site).
By entering, you agree that if you are chosen as the prize winner, you will allow the Promoters and their partners to use your name, face-book ID, photograph, video, voice recording and general location for its publicity promotional and news purposes during this and any future competitions, promotions or advertising in any and all media in relation to the adidas brand and products including publishing your name ID and the fact you won on www.adidas.com
By entering into the competition you acknowledge and agree that all rights in the ownership of copyright in any imagery created in relation to the competition (individually and collectively the "material") shall vest in the Promoters. As such, you hereby assign to the Promoters all past, present and future copyright (including by way of present assignment of future rights) and all other rights (including all intellectual property rights and all rights of syndication) in the Material, throughout the World in perpetuity. Further, to the extent that the benefit of such rights can not be assigned under applicable law, then you acknowledge that such rights are held and exercisable for the sole benefit of the Promoters and hereby waive and undertake not to assert any and all so-called "moral rights" to the same.
The Promoters reserve the right to change, alter or withdraw the competition or any prize at any time.
No purchase is necessary for entry of the Competition and purchase will not increase chances of winning.
To the maximum extent permitted by the law, the Promoters shall not be liable for any claims or actions of any kind whatsoever for damages or losses to persons and property which may be sustained in connection with the receipt, ownership and/or use of the prize.
The Promoters will use the information which you provide or which they obtain from their dealings with you, to administer the competition. The Promoters also wish to use it to tell you about our products and offers, and for market research. The Promoters will not pass on the information to partners or third parties. If you agree for the Promoters to use your information for these purposes, then please indicate this by ticking the relevant box on the entry form.
If any of these terms and conditions are found by a competent court or other competent authority to be void or unenforceable, that term or condition shall be deemed to be deleted and the remaining terms and conditions shall continue in full force and effect. The Competition is void where prohibited by law.
This promotion is run in accordance with the laws of England and Wales.
This competition is organized by We Are Social of 1 St John's Square, London, EC1M 4PN.