Mr. President, the entire football world is out to get you!
Watch the Premier League Live Online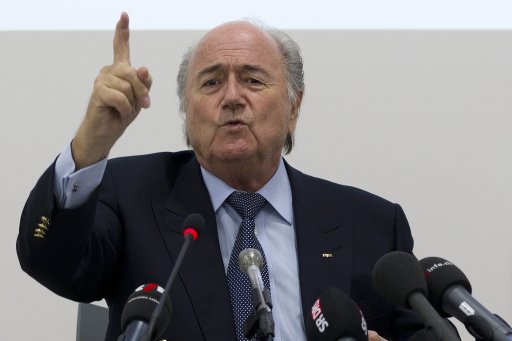 Controversial FIFA chief Sepp Blatter has accused English football of holding a grudge against him because of their failed 2018 World Cup bid.
In an interview with a Swiss newspaper, Blatter drops any hint of diplomatic niceties to accuse England of sour grapes and conducting a witch-hunt against him.
Blatter says: 'The English reckoned football was to come back home. They were sure of winning [the 2018 vote] and they got two votes. Since then, they have been looking for any means to justify their defeat.'
Blatter's renewed attack on English football can only worsen a relationship already damaged almost beyond repair.
SOURCE: Daily Mail
If Mr. Blatter had an ounce of self respect or indeed a true love of the game then he would have stood down some time ago. The Swiss nutcase was already very much a hated man, ridiculed for the manner in which he ran the corruption riddled FIFA organisation and then he went and stated that racism didn't actually exist on the football pitch and that those who believed they were targets of such bigoted acts should just shake hands with the culprits and get on with the game.
Then let's factor in that the anti-corruption body that FIFA brought in to help get its house in order have cut ties with the world's football governing body after they refused to implement the directives they suggested and you have a man who's untenable position somehow fails to actually result in his immediate dismissal. I say somehow but clearly the main reason this has not occurred is because those who are underneath Blatter and holding him aloft are of course enjoying the fruits of the corrupt regime and see no need to 'shake the boat'.
As for Mr. Blatter thinking that English football holds a grudge against him, well he's right. How else would he expect any nation of reacting after such blatant acts of dishonesty and underhand dealings.
Oh, and in case you hadn't heard. Michel Platini is very much for the idea of a winter World Cup in 2022, despite the fact that this was not the mandate that the bidding process had detailed when they asked nations to make their claims to host the tournament.
Join the Best Football Manager game now, Its Free!