Old Trafford striker may be left at home.
Watch the Premier League Live Online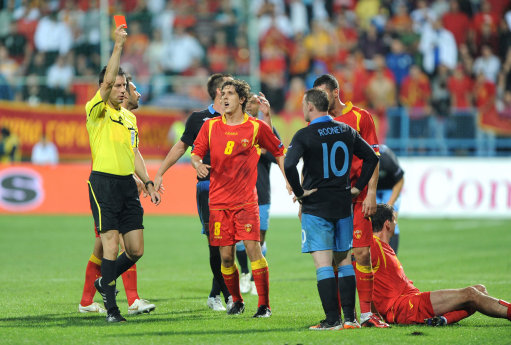 Fabio Capello is considering leaving Wayne Rooney out of his Euro 2012 squad – if the striker's three-game ban is not reduced this week.
Capello will accompany Rooney to Nyon on Thursday, when the FA will urge UEFA's disciplinary committee to cut the Manchester United man's suspension for his red card against Montenegro.
Unless UEFA show leniency, Rooney will miss the three Group D games against France, Sweden and Ukraine before being available for the tournament's knockout phase.
But while Capello has previously hinted it was his intention to select Rooney despite the suspension, he now has second thoughts.
"I need to wait," Capello said. "I need to see how the appeal goes. The sentence, three games, was too much and I hope the appeal will help us reduce it. I hope he [Rooney] will be available for game three."
SOURCE: Daily Mirror
It is highly unlikely that UEFA will reduce the England striker's suspension and not because of any speculative anti-English sentiment malarkey but because when you kick an opponent it is par for the course to get a three match ban.
Fabio Capello must weigh up the pros and cons of selecting a player who must sit out the entire group stage. The pros being that clearly the Man United man is England's most effective attacking weapon and the con being that he takes up a spot in the squad.
Given that his inclusion would only result in the dropping of a third or fourth striking option, say a Peter Crouch or Jermain Defoe, then it still makes more sense to take Rooney, not least because England's group is fairly average and Capello must surely expect to qualify to the knock-out stages.
Join the Best Football Manager game now, Its Free!