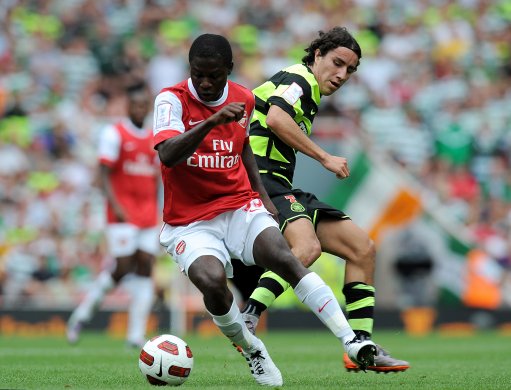 2. Emmanuel Frimpong
Arsenal starlet Emmanuel Frimpong would be another quality signing, with there being a possibility that the anchor midfielder could be available on a loan basis in the new year.
A temporary move could help both parties, but with Norwich already having signed Kyle Naughton and Ritchie De Laet on loan this season, the former may have to be made a permanent deal before further loan deals are done.
Frimpong is keener to go on loan than his boss Arsene Wenger is to let him go though.
"At the moment it's hard for me to get into the team, no doubt about that," admitted Frimpong earlier this month.
"When you aren't playing, the obvious choice is to go out for a little while and try to get some game time.
"When January comes we'll see, you never know how things will go, so we'll look at it then."
With Norwich having managed just one win on the road so far this season, perhaps additional protection for their back line is what is needed in away games.