Villa Park striker goes AWOL.
Watch Aston Villa v Arsenal Live Streaming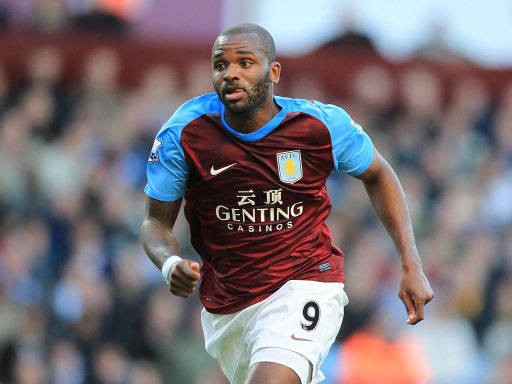 Aston Villa forward Darren Bent last night tweeted an apology after he was spotted Christmas shopping during his team's defeat at home to Liverpool on Sunday.
The club remain "relaxed" and "unconcerned" following Bent's reluctance to watch his side's full game on television or in person.
Villa explained that Bent, who is currently out with a thigh injury, received treatment at Villa's training ground on Sunday morning and was later informed by doctors that he was free to leave and go home.
Rather than get behind his struggling team-mates in a show of unity and support, the Villa forward decided to get a bit of his shopping done, which has angered many supporters.
I'm partly with Darren Bent on this one; Villa's record signing seemingly made an inspired decision to pass on the end of the game.
Now I'm no shopper, but Aston Villa looked really poor on Sunday so to pre-empt this and go shopping was close to a masterstroke.
At the moment cross-stitch sounds better than watching Alex McLeish's team who are lacking in any confidence or self-belief.
Bent luckily missed part of the game, although I'm assuming he doesn't quite understand that shopping at this time of year is nothing short of traumatic.
I presume that the England international striker trawled the Bull Ring of Birmingham carrying more bags full of crap 3 for 2 gifts from Boots than The Grinch who stole Christmas.
After all Darren you're right not to care what the fans think of you and your decision not to attend the game; free of charge, with complimentary food and drink, in addition to a nice warm comfortable seat with a slave to keep your Louis Vuitton scarf warm while you nip to the toilets, which luxuriously contain a hand dryer and some soap.
I bet if you went to the match and asked for a bottle of Coke, you would get to keep the bloody lid and all you jammy get.
Those supporters at Villa Park pay your wages Darren so pull your finger out and have some respect – do it all online.
For future Darren get yourself online.
Don't mingle with those peasant reserve players in Nandos. You are better than that , get one of your entourage to nip out and pick up a take-away Nandos for you. You can even get the dips in a little plastic tub, you won't be missing anything.
Sick of dodging the pram-army and all I bet. That lot are harder to outmanoeuvre than Titus Bramble was in training up at Sunderland.
Your bright white trainers don't have to be scuffed or puddle wet either.
Those nice little trainers could have been all snuggled up on your shoe-rack all nice and warm, but no you will have missed the booing at the final whistle at Villa Park.
Not for the defeated players, but for your poor choice of shopping in person rather than online I would wager – shame on you Darren, shame on you.
Follow Paul on twitter @paul__todd
To visit Paul's blog CLICK HERE
Join the Best Football Manager game now, Its Free!
var vaunit_unit_type=0;
var vaunit_width=300;
var vaunit_height=250;
var vaunit_id=2759;