Former Emirates Stadium star speaks of possible return.
Watch the Premier League Live Streaming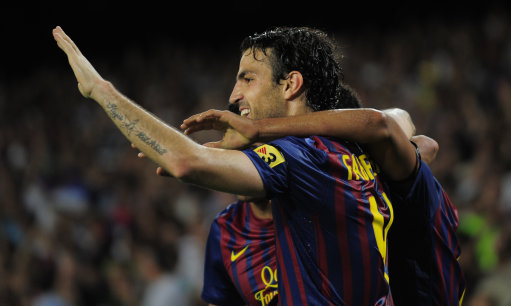 Barcelona midfielder Cesc Fabregas has spoken of his desire to one day play for Arsenal again.
The Spanish international left the Emirates Stadium in the summer after a protracted transfer saga involving the Gunners and the club where he first began his career.
The 24-year-old eventually joined the European champions for an initial fee of £25 million, but says that leaving north London was a deeply emotional time for him.
"If I have to leave Barcelona, I will go back to Arsenal – I would like to," Fabregas told Sky Sports News. "I am not embarrassed to say that the day I left I could only say 'Thank you very much', I couldn't say more.
"I'm not embarrassed to say that I nearly cried. Arsene Wenger, I have never met someone that loyal. He is one of the best, I really believe that."
SOURCE: Goal.com
Would the former Gunners skipper be welcomed back by his former fans? There was certainly a certain amount of anger among some Arsenal fans when the former Barcelona youth team graduate left North London for the Nou Camp though most probably accepted the fact that the midfielder longed to return to his first club.
Clearly any possible move back to the Emirates Stadium would be some time in the distant future as the Spanish international has started his second spell at the Catalan club with a bang. Some assumed the 24 year old midfielder would struggle to get first team football at Barcelona but thus far this season Fabregas has started 15 matches and has netted an impressive 11 goals in the process.
Fabregas has also picked up the Spanish Super Cup, UEFA Super Cup and FIFA Club World Cup winners medals in his first few months at the club.