Time to bring TH14 back to the Emirates Stadium?
Watch Arsenal v QPR Live Streaming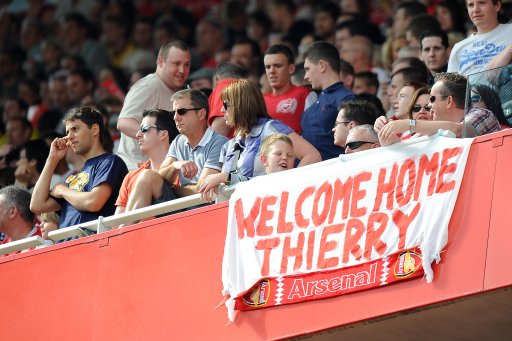 As the January transfer window approaches, rumours of Thierry Henry re-joining Arsenal on a short-term basis continue to gather pace. Arsenal boss Arsene Wenger has publicly ruled out January moves for Gary Cahill, Yoann Gourcuff and Lukas Podolski but has failed to do the same with regards to a move for the club's all-time leading goalscorer. In fact, in the past week he seemingly revealed that he was seriously considering the idea. "Short term is ideal for us," Wenger stated, before adding "I haven't made any enquiry yet."
Of course, Wenger has previous form for such a move. Sol Campbell and Jens Lehmann have both been brought back to the club on a short-term basis in past seasons and when you consider that Campbell had been plying his trade for Notts County and Lehmann had been retired from the sport entirely, Thierry Henry would be a more logical signing than either of those seemed at the time.
Henry has been training with Arsenal since the MLS season came to a close and as a result the move is perhaps less of a gamble than it seems at face value. Henry's fitness levels will have been monitored thoroughly and Wenger is best-placed to make an assessment of whether or not Henry still has the sharpness to compete at the top level in the Premier League. Reports suggest that Henry has indeed impressed during his time at the Gunners' London Colney training facility with Martin Keown recently speaking of how the Arsenal players have struggled to get the ball off him.
When the idea of a loan move for Henry was first reported, many scoffed at the idea, dismissing it as a move based on sentimentality rather than practicality. Sentimentality towards Henry has been a theme of recent months. In the summer Arsenal attempted, and subsequently failed, to have Henry play the second half of the Emirates Cup fixture against the New York Red Bulls for the home side rather than his current club. More recently, Arsenal unveiled a statue of Thierry Henry outside their stadium.
Others were much more harsh, dismissing the idea as being stupid. Why bring back a player who, at 34 years old, is undoubtedly past his prime? Shouldn't Arsenal be looking towards the future rather than turning back to an old familiar face?
However, logically, the move actually makes a lot of sense. Arsenal are set to lose Gervinho and Marouane Chamakh as the pair head for the African Cup of Nations and Arsenal are already short of cover for captain Robin Van Persie, who will need to be rested on occasion if he is to get through the season without suffering an injury.
Henry played a role similar to Gervinho's during his time at Barcelona and can also provide cover for Van Persie's central striker role, as his diminishing pace has forced him to play a more predatory role for the NY Red Bulls in the past couple of seasons.
While Henry is undoubtedly past his prime, he still has a lot to offer a club, especially as a back-up striker. He may not be the rapid striker of 'The Invincibles' days but in the MLS season just passed, Henry contributed 14 league goals in 26 appearances and weighed in with 4 assists. The level may be below that of the Premier League but he still offers a genuine goal threat and would also give Arsenal a different option from set-pieces, especially direct free-kicks.
The old footballing cliché is to 'never go back'. However, in recent times there have been examples of players returning to previous clubs and being successful. Lukas Podolski returned to FC Köln and seems far happier than he ever did at Bayern Munich. Juan Roman Riquelme won several trophies after returning to Boca and of course the previously mentioned return to Arsenal for Sol Campbell was a relative success, with the defender putting in some calm and assured displays for the club.
There is also the notable example Henrik Larsson's brief spell at Manchester United in 2007, after which the Swede won a Premier League winners medal, as evidence that strikers in their mid 30s can be of huge benefit on a short-term basis.
The move may well be based as much on sentimentality as practicality but perhaps that isn't a bad thing. The return of the club's greatest ever striker would create a buzz excitement which is arguably much needed at the club if they are to push Spurs, Chelsea and Liverpool for a top 4 finish.
Time will tell whether the move happens and to what degree it is a success, but Arsene Wenger was astute in bringing Henry to the club in 1999 and it should come as no real surprise if a short-term loan move for the same player proves to be equally astute in 2012.
Jason Mitchell
Join the Best Football Manager game now, Its Free!