French veteran on his way to Emirates Stadium return.
Watch Arsenal v QPR Live Streaming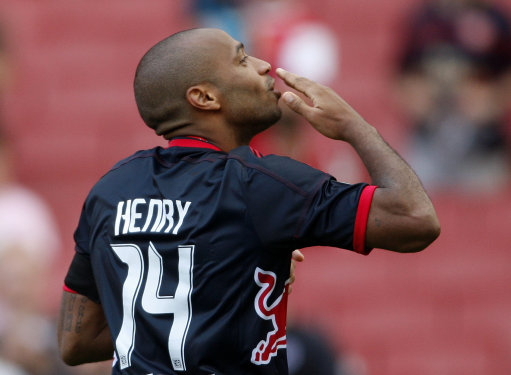 Arsenal have finally offered Thierry Henry a contract to return to the club on a two-month loan.
Arsene Wenger had been mulling over whether to take back the club's all-time leading goalscorer to boost his side's chances of finishing in the top four.
With Gervinho and Marouane Chamakh heading to the Africa Cup of Nations next month, the Arsenal manager has concluded that top scorer
Robin van Persie needs help to lighten his scoring burden.
Wenger decided to make the offer after the 34-year-old returned from holiday in Mexico this week. Henry has a $4.5million (£2.9m) deal with New York Red Bulls but has been training with Arsenal in the MLS off-season and does not have to return to America until March.
SOURCE: Daily Mail
One would imagine that the only obstacle in the way of this deal becoming a reality may be down to whether Thierry Henry's New York Red Bulls side would be allow their star player to sign a deal to play for Arsenal for two months. The MLS side may feel that agreeing to such a deal would be risky and given that David Beckham completed a similar deal to play for AC Milan and then suffered a serious injury.
Clearly Arsenal would have to make a lucrative enough offer for Thierry Henry to make an emotional return to the North London club he served with such recognition between 1997 and 2007.
Henry would in theory be available for up to seven Premier League games as well as FA Cup encounters and the knock-out Champions League fixture with AC Milan and the 34 year old would provide Gunners boss Arsene Wenger with much needed support up front.
With Gervinho and Marouane Chamakh set to be away on African Nations Cup duty there is a very real need to bring in alternative options up front, an area that Robin Van Persie is already pretty much operating alone and the addition of Thierry Henry may well help share the goal-scoring burden that the Dutchman appears to be carrying alone.
Join the Best Football Manager game now, Its Free!