Pitch attacker offers apology to AZ Alkmaar goalkeeper.
Watch the Premier League Live Streaming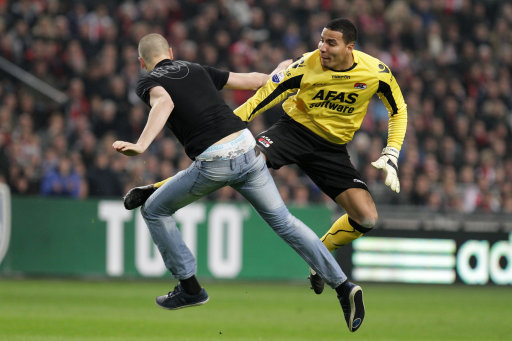 A Dutch court has sentenced a man who attacked a goalkeeper during a football match to a six-month prison term.
The man, identified under Dutch privacy laws only as Wesley van W, ran on to the Amsterdam Arena pitch on 21 December.
He tried to kick Esteban Alvarado from behind and the AZ Alkmaar goalkeeper retaliated by kicking the man twice.
Mr Alvarado was given a red card for misconduct but this was later rescinded.
Wesley van W told the court that he was very sorry for his actions and said he would also offer his apology to the AZ goalkeeper.
Two months of the prison term were suspended, meaning they will only have to be served if another offence is committed in the next two years.
Prosecutors had sought a 10-month prison term for the 19-year-old who, according to Dutch state broadcaster NOS, will also have to have treatment for his alcohol problem.
SOURCE: BBC Sport
This punishment is about right and hopefully will act as a deterrent to any others stupid enough to attempt a similar attack. Perhaps more crazy than the attack itself was the decision by the referee to send off AZ keeper Esteban Alvarado, a decision that may well have been according to the refereeing rule book but was nonetheless an atrocious one to make.
The Dutch Cup match was suspended after the incident and will be replayed from the beginning behind closed doors.
Join the Best Football Manager game now, Its Free!