Anfield striker brought game into disrepute.
Watch the Premier League Live Streaming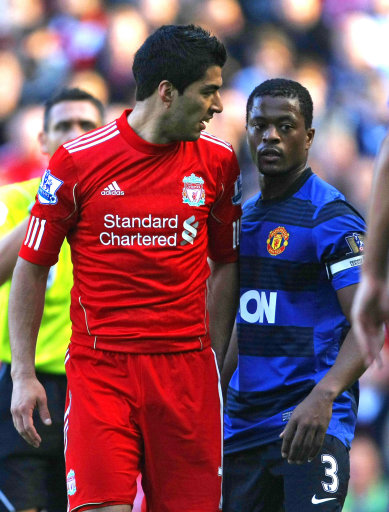 The Football Association has published a report which details the reasons behind Liverpool's Luis Suarez's eight-match ban for racially abusing Manchester United's Patrice Evra.
Suarez, who also got a £40,000 fine, clashed with the France defender during the 1-1 draw at Anfield on 15 October.
The report says that Suarez broke Rule E3 by bringing the game into disrepute.
It added that any further offence "will give rise to consideration of a permanent suspension".
The FA and Liverpool were given the findings on Friday by the Independent Regulatory Commission.
Both parties have the right to an appeal and must reply by 13 January.
SOURCE: BBC Sport
No doubt many will be interested in the FA report and some will be shocked by the possibility of a permanent suspension if Luis Suarez is once again found guilty of a similar offence to the one he committed against Patrice Evra in October.
Liverpool are considering an appeal but will be aware that doing so could lead to the Uruguayan's eight match ban being increased.
The report says that when Evra asked Suarez during the 1-1 draw why he had been kicked, the striker replied in Spanish: "Porque tu eres negro," which translates as "because you are black."
Evra said he would punch Suarez if he repeated the comment to which Suarez said: "No hablo con los negros" – "I don't speak to blacks."
The FA called in linguistic experts to assess Suarez's defense, but they determined that his language on the pitch "would be considered racially offensive" anywhere.
"Mr. Suarez said that he pinched Mr. Evra's skin in an attempt to defuse the situation. He also said that his use of the word 'negro' to address Mr. Evra was conciliatory and friendly. We rejected that evidence," the report said. "To describe his own behavior in that way was unsustainable and simply incredible given that the players were engaged in an acrimonious argument.
"That this was put forward by Mr. Suarez was surprising and seriously undermined the reliability of his evidence on other matters."
SOURCE: Sports Illustrated
Join the Best Football Manager game now, Its Free!