Old Trafford row leads to England man being axed from New Year's Eve fixture.
Watch Newcastle United v Man United Live Streaming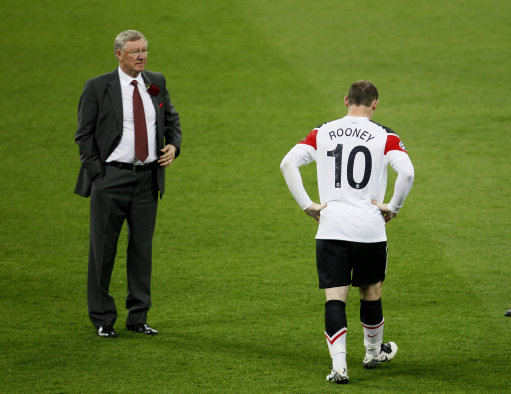 Wayne Rooney was sensationally axed from Manchester United's squad for the Premier League match against Blackburn after a bust-up with manager Sir Alex Ferguson that throws the controversial striker's Old Trafford future into doubt.
United crashed to a 3-2 home defeat by a team who had started the day bottom of the Premier League table after Rooney, 26, was dropped for what appears to have been the most innocuous of reasons — going out for a Boxing Day evening meal with his wife, Coleen.
Rooney's team-mates, Jonny Evans and Darron Gibson, joined them, along with their respective partners, and the party of six dined in Manchester and celebrated United's 5-0 win over Wigan earlier that day.
It is understood that Rooney, Evans and Gibson were overheard discussing the evening during training on Tuesday morning, saying what an enjoyable time they had had. Word of the night out reached Ferguson, who was 70 on Saturday, and the manager hauled Rooney into his office to voice his displeasure.
United, like all clubs, have strict rules about players' behaviour and there appears to have been a massive gulf in perception over Monday night's activities.
The trio of players were ordered to do extra training on Wednesday — their day off. Rooney was then told on Friday night that he would be dropped for the Rovers fixture. He has also been hit with a six-figure fine, which has left him bemused and furious at what he sees as a huge injustice.
SOURCE: Daily Mail
This is not good news for Man United and Old Trafford fans will hope that any spat between Wayne Rooney and Sir Alex Ferguson is nipped in the bud fairly swiftly. Dropping the England international certainly didn't help the club's Premier League cause, though it would probably be incorrect to suggest that had the 26 year old been selected to take on Blackburn Rovers that anything would've turned out differently.
Clearly scoring goals yesterday was not a problem, defending on the other hand most definitely was.
Ferguson is clearly well known for being a hard task master and though he will want to be stern on any player he deems to have broken club guidelines the Scot also knows that as games come thick and fast during this festive period, he can not allow such issues to derail their title campaign.
Clearly another fear may be the way in which Wayne Rooney reacts to what he may perceive as an unfair punishment. Remember this is a player who demanded an exit from the club just over a year ago so it is not beyond the realms of possibility that he could push for an exit, a prospect made all the more worrying given that the transfer window has just re-opened.
Frosty relationships with Ferguson have led to some players pushing for a move away but it's probably far too early to surmise what may occur next. Clearly if Rooney is not selected for Wednesday's trip to St James' Park then speculation of an irreparable rift will merely grow.
Join the Best Football Manager game now, Its Free!